Vietnam, RoK told to eye co-operation in key industries
Saturday, 15:19, 25/06/2022
VOV.VN - Vietnam and the Republic of Korea (RoK) should continue ramping up bilateral investment co-operation, especially in key industrial fields, whilst simultaneously focusing on the transfer of technology to Vietnam.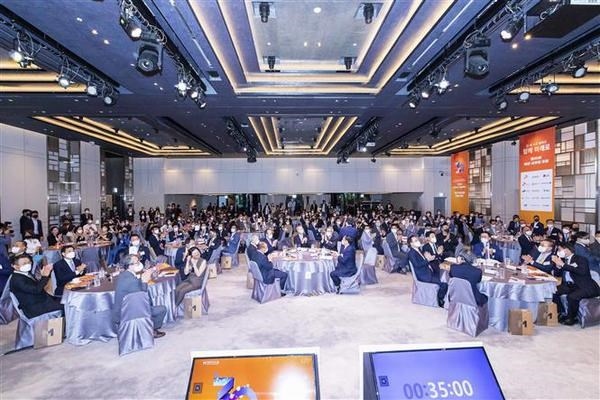 Vietnamese Deputy Prime Minister Pham Binh Minh made the remarks at the 30th Global Maekyung Forum recently held in Seoul to mark 30 years of the establishment of diplomatic relations between Vietnam and the RoK.
In a message given to the function, Deputy PM Minh highly appreciated the Maekyung Forum's role in connecting and promoting multi-faceted co-operation between all countries, as well as between Vietnam and the RoK, especially in terms of economics, trade, and investment.
He went on to emphasise that bilateral relations have developed comprehensively, while political trust has been continuously consolidated since the two countries established their diplomatic ties in 1992.
Both countries have established a strategic co-operation partnership, thereby becoming each other's leading partners in many fields, and they are aiming to boost ties to a comprehensive strategic partnership in the near future.
The RoK currently ranks first in terms of foreign direct investment in Vietnam, second for Official Development Assistance (ODA), labour, and tourism, and third on trading. RoK businesses have poured roughly US$80 billion into approximately 9,300 projects in the Vietnamese market, making a practical contribution to local socio-economic development over the years.
Most notably, large-scale projects invested by leading multinational economic groups such as Samsung, LG, Posco, Hyosung, and Hanwha, along with many satellite investors, have contributed to forming strategic supply chains for Korean enterprises on a global scale.
Amid rapid and unpredictable changes occurring globally, Vietnam is determined to build an independent and self-reliant economy, while actively integrating into the wider world, affirmed Deputy PM Minh.
With a GDP exceeding US$350 billion, the country has become the fourth largest economy in ASEAN. Indeed, its trade turnover in 2021 rose by 22.6% last year to reach nearly US$669 billion, thereby making it one of 20 countries with the largest trade scale in the world.
Currently, Vietnam is home to roughly 35,000 active FDI projects with a total investment capital of over US$426 billion. Due to its positive FDI attraction results, Vietnam has been included in the list of the top 20 countries attracting FDI globally for the first time by the UN. The International Monetary Fund (IMF) projects Vietnamese economic growth will be at 6% this year before rising to 7.2% in 2023.
As a means of further strengthening the Vietnam – RoK Strategic Cooperation Partnership, Deputy PM Minh suggested that the two sides seek to increase investment co-operation, especially in industrial fields and technology transfer.
The Vietnamese Government always accompanies and creates favourable conditions for firms from the RoK in order to feel secure and make stable and long-term investments in the country, the Deputy Prime Minister assured.
According to him, both sides should move to expand their trading ties by making full use of the Vietnam - RoK free trade agreement (VKFTA) and the Regional Comprehensive Economic Partnership Agreement (RCEP), so as to raise bilateral trade turnover to US$100 billion in 2023 and US$150 billion in 2030.
Along with these efforts, he outlined that the two sides should develop a strategic partnership on digital platforms by sharing experiences and knowledge about digital transformation and corporate governance, as well as building research and development centres in Vietnam.
The forum was co-organised by the Maekyung Media Group of the RoK, the Korea Chamber of Commerce and Industry (KCCI), and the Vietnam Chamber of Commerce and Industry (VCCI).