Vietnam remains potential market for Monaco investors
Thursday, 12:38, 05/05/2022
VOV.VN - The country represents a potential and attractive market for entrepreneurs from Monaco, as demonstrated by the participation of over 60 firms and investors in a recent economic conference hosted by the Vietnamese Embassy in Monaco in collaboration with the Monaco Economic Board (MEB).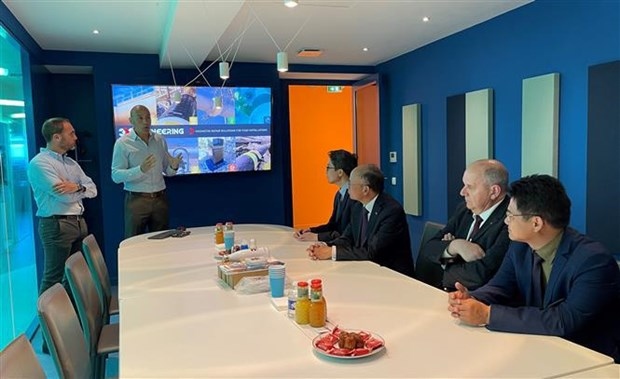 As part of his address, Ambassador Dinh Toan Thang briefed participants on the country's potential, highlighting the nation as one of the fastest growing and most dynamic economies in the region. Indeed, it has a coastline stretching more than 3,200 km and boasts many seaports and major international trade routes passing through.

The country is therefore keen to attract firms from Monaco, especially in seaports, healthcare - pharmaceuticals, tourism, sustainable development, and creativity, he said.
The diplomat went on to express his confidence that economic co-operation between the two sides will make strong breakthroughs in the future, with increasing numbers of Monaco businesses selecting Vietnam as their investment destination.

Financiers from Monaco expressed how impressed that have been with Vietnamese socio-economic development achievements, especially in institutional breakthroughs and preferential policies for foreign businesses.

They stated their hope that the Vietnamese Government will support and offer favourable conditions for them to co-operate and conduct business successfully in Vietnam, thereby entering the ASEAN market.
Regarding the prospects of greater co-operation, Michel Dotta, president of MEB, said that although current trade and investment exchanges remain weak, it is undeniable that greater potential exists for links in the Vietnamese market and many fields which both sides are strong in moving forward.
For his part, Guillaume Rose, general director of MEB, said that the group regularly works with the Vietnamese side and currently many businesses which are highly interested in this market. The presence of a large number of entrepreneurs and the Vietnamese Embassy delegation attending the seminar is a vivid manifestation as it contributes to optimising the relationship between Monaco and Vietnam.         
This comes after Ambassador Thang led a delegation on May 3 made up of members of the Vietnamese Embassy to visit Monaco enterprises with long-term co-operation ambitions in Vietnam, including 3X Engineering and Siamp Cedap.
These are the leading corporations of Monaco which regard the nation as a very important partner, serving as a foundation for them to expand into the ASEAN market.