Vietnam offers substantial benefits to Japanese investors: OERI expert
Sunday, 11:00, 18/10/2020
Vietnam is a destination that can bring substantial benefit to Japanese investors, Director of the Vietnam Economic Research Institute (OERI) Moribe Hiroyuki said ahead of an official visit by Japanese Prime Minister Suga Yoshihide. ​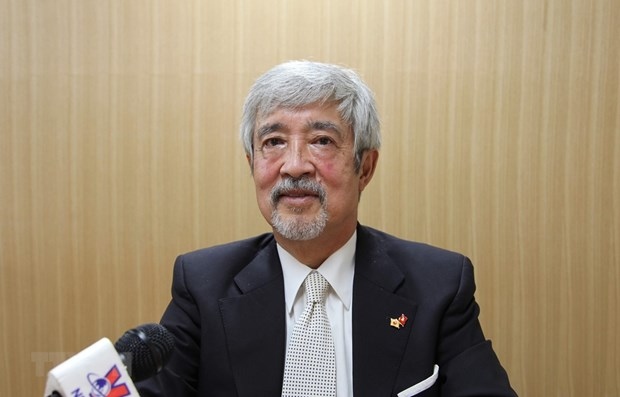 In an interview granted to Vietnam News Agency's correspondents in Japan, the expert noted that the country has recorded a robust economic growth of 5%-6% in the past two decades, its population will soon increase to 100 million, which are favourable conditions for investment in Vietnam.
He added that Vietnam is among the very few countries which are able to put the COVID-19 pandemic under control, and maintain positive economic growth with vibrant economic activities this year, so it will definitely be an attractive destination not only for Japanese enterprises but also European and Chinese firms.
Explaining on the reason why Suga chose Vietnam and Indonesia for his first overseas trip, Moribe said the two countries have large populations and there are many Japanese businesses operating there. He also wants to demonstrate his pledge to continue Abe's policy, and seek support of the ASEAN bloc to realise Abe's Free and Open Indo-Pacific initiative to maintain safe travel in the waters.
On the significance of PM Suga's visit to bilateral ties, Moribe said that Vietnam is one of the most important partners of Japan in Asia, and has close relations with Japan. Besides, Vietnam is Chair of ASEAN in 2020, and Japan wants to help ASEAN member states have deeper understanding of its stance on the bloc ahead of the ASEAN Summit slated for November.
Besides, as the Vietnamese labourers are an indispensable part to form the foreign human resources in Japan but the COVID-19 outbreak has limited travel between the two nations, leaders of both nations may discuss to ease travel ban during the visit.
Moribe also said PM Suga will want to learn how Vietnam has worked to contain the SARS-CoV-2 virus and seek further cooperation with Vietnam in this field.