Vietnam National Pavillion to be set up on Chinese JD.com platform
Tuesday, 19:00, 30/11/2021
Once operational, the Vietnam National Pavillion on Chinese e-commerce platform JD.com will help Vietnamese products to be distributed directly to consumers in the importing countries, said an official.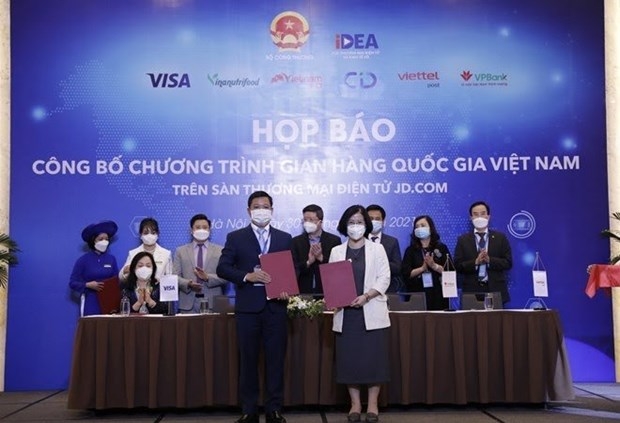 Dang Hoang Hai, head of the Vietnam E-commerce and Digital Economy Agency (VEDEA) under the Ministry of Industry and Trade, said at a press briefing in Hanoi on November 30 that this is the first Vietnamese pavilion on an international e-commerce platform which enables Vietnamese firms to provide their products to customers directly through trans-border e-commerce method.

With the support of JD.com, Vietnamese products will be distributed in the Chinese market through an official and prestigious channel, he said.

Hai said that the VEDEA will coordinate with domestic and foreign partners, including JD.com, Vinanutrifood, Viettel Post, VP Bank and Visa to set up the Vietnam National Pavilion on the JD.com e-commerce platform.

The agency will help connect businesses and give them guidelines on distributing products on the pavilion in line with regulations of the platform and the law of the importing country. At the same time, it will also seek resources from partners to promote Vietnamese products and support local firms to smoothly distribute their products on the JD e-commerce platform, thus increasing exports to China.

Hai held that trans-border e-commerce will be the fastest channel to directly connect businesses and consumers, supporting the traditional distribution channel, and reducing cost for enterprises.

Meanwhile, Bui Huy Hoang, Vice Director of the IT and Digital Technology Centre under the agency said that despite negative impacts of COVID-19 in 2020, Vietnam still saw strong growth in e-commerce activities and became one of the fastest growing e-commerce markets in the Southeast Asian region.

The Vietnam E-commerce White Book clarified that last year, the local e-commerce market expanded 18% to US$11.8 billion, making Vietnam the only Southeast Asian country to enjoy two-digit growth in the field.

Notably, the global revenue from e-commerce activities between businesses and consumers is predicted to hit US$2.88 trillion in 2023, noted Hoang, stressing that trans-border e-commerce will be a sharp tool for businesses to expand markets.