Vietnam booths enter French supermarkets
Saturday, 16:23, 14/01/2023
VOV.VN - Carrefour Group and the Vietnamese Embassy in France launched Vietnamese booths at all supermarkets run by the French retailer on January 13 as part of the traditional Vietnamese New Year, known locally as Tet.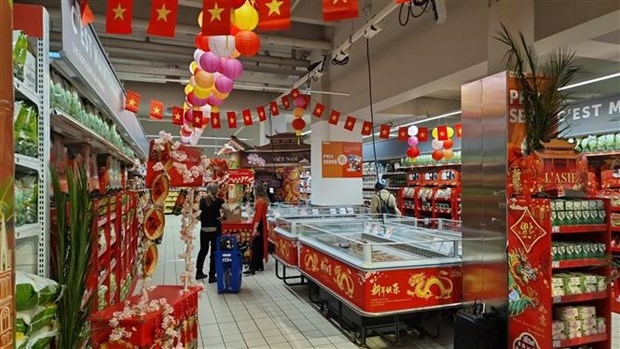 At Carrefour market in Lyon, the Vietnamese booth introduced many local agricultural products such as rice, spring rolls, noodles, and coffee, along with industrial products.

Traditional fruit trays and Chung, a glutinous rice cake, were also prepared to offer visitors an insight into the spirit of Vietnamese Tet.

Attractive promotion programmes were also put on as part of the occasion, aiming to encourage more visitors to sample the products.

Upon addressing the launching of the booth at Lyon Carrefour supermarket, Vietnamese Ambassador Dinh Toan Thang said that this promotion marks a step forwards in the Vietnam-France economic and trade partnership amid the two sides marking the 50th anniversary of the bilateral diplomatic ties and 10 years of their strategic partnership.

For his part, Rami Baitiéh, director of Carrefour, said that Vietnamese goods are always among the top 20 best-selling agricultural products in the international zone of the chain.

He said that he has directed all of the firm's supermarkets to ensure the supply of Vietnamese products in order to meet their customers' demand.
Bruno Lebon, executive director of Hypermarkets at Carrefour, said that the supermarkets are selling 200 products from Vietnam, adding that the firm plans to organise a number of promotion events aimed at better meeting the rising demands for Vietnamese products.

Lebon went on to note that Vietnamese rice, coffee, and tea are popular among French consumers, with Vietnamese fruits receiving increasing attention from local shoppers. Therefore, the firm is seeking suppliers for these products.

Last year, Carrefour and the Vietnamese Embassy in France organised three promotion schemes specifically for Vietnamese products.