Vietnam, Algeria boost trade, investment cooperation
Thursday, 09:34, 05/11/2020
VOV.VN - The Vietnamese Embassy in Algeria hosted an online workshop in Algiers on November 4 to seek stronger trade and investment cooperation opportunities in the post COVID-19 period.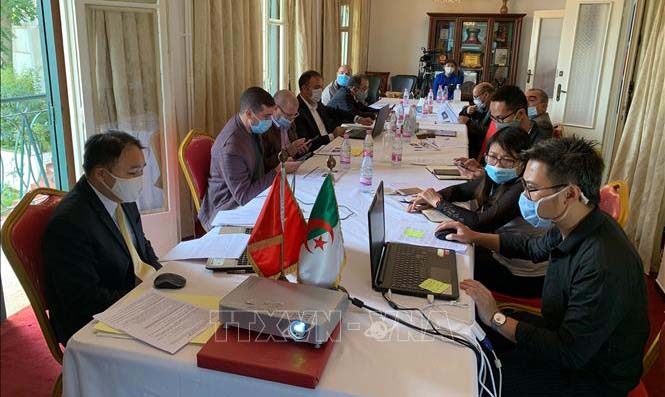 The workshop attracted the participation of representatives from more than 70 businesses of the two countries specializing in producing, processing and manufacturing agricultural products, seafood, garments, footwear, electronic appliances, pharmaceuticals, medical equipment, handicrafts, mechanical products, auto and motorcycle spare parts, building materials, as well as veterinary medicine.
Addressing the event, Ambassador Nguyen Thanh Vinh noted the workshop, the first of its kind hosted by the Embassy, aims to connect businesses of the two countries to help them meet and exchange possibilities for trade and investment cooperation and to establish direct partnerships.
The Ambassador also affirmed that the Embassy is ready to accompany and support businesses of the two countries in exploring market information, introducing reliable partners and implementing cooperation projects in the future.
At the workshop, Trade Counselor Hoang Duc Nhuan introduced the export-import and investment potential between the two countries, and answered questions related to import and export regulations, payment methods, tariffs, partner verification, distribution channels, and investment incentives in Algeria.
Nhuan also announced that the Vietnamese Ministry of Industry and Trade in coordination with the International Organization of the Francophone (OIF) and a number of Vietnamese Trade Offices in Africa will hold an online workshop between Vietnam and French-speaking countries in Africa.
 "Such workshops contribute to creating business connectivity, seeking reliable partners and taking a preparatory step forward in the post-COVID-19 period," he said.
Businesses of the two countries held direct exchanges to seek business and investment opportunities.
Currently, Algeria is one of the five largest economies in Africa, with its GDP last year reaching US$169 billion and its foreign exchange reserves hitting US$72.6 billion. The African country has a population of approximately 44 million with GDP per capita of over US$3,900. Despite being a large economy in Africa, Algeria has to import most staples, including 50% of its food and foodstuffs.
The General Department of Vietnam Customs, Vietnam earned US$187 million from exports to Algeria last year. Major exports include coffee, aluminum, seafood, cell phones and accessories, rice, chemicals, washing machines, vegetables, cashew nuts, fibers, pepper, and fabric.
Meanwhile, its import turnover from Algeria is rather small, at only US$3,24 million. The main import items include chicken feet, scrap paper, wood and wood products, animal feed and raw materials, and pharmaceuticals.