US financial officials arrive for market assessment report
Thursday, 10:09, 07/04/2022
VOV.VN - Governor of the State Bank of Vietnam (SBV) Nguyen Thi Hong on April 6 had a working session with a delegation of the US Department of the Treasury led by Deputy Assistant Secretary of the Treasury Robert Kaproth.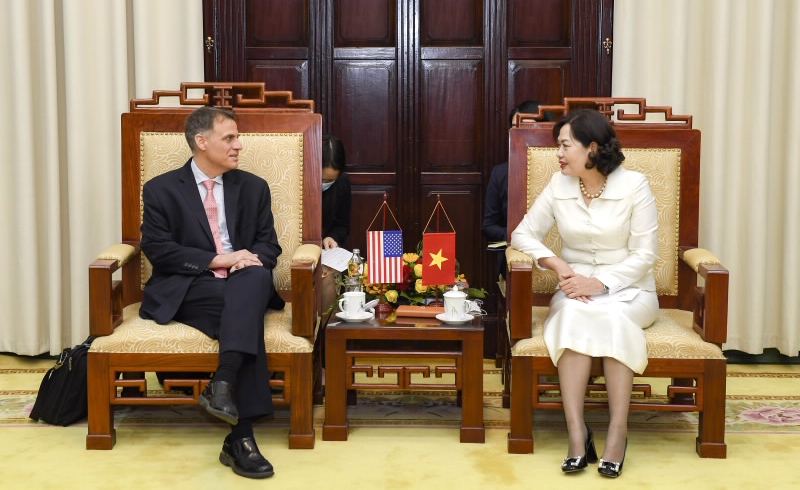 The move recognised the State bank's efforts in operating monetary and exchange rate policies in an effort to ensure the smooth functioning of the market, stabilise the macro-economy, control inflation, and improve exchange rate flexibility, she said.
She went on to reaffirm that the country's consistent exchange rate policy is aimed at stabilising the macro-economy and controlling inflation as opposed to creating an unfair competitive advantage in international trade.
The SBV governor briefed her guest on the Vietnamese macro-economy, outlining that it is currently ramping up post-pandemic economic recovery and striving towards fully reopening all business services.
In the first quarter of the year, the national economy recorded an estimated growth rate of 5.03%; whilst the domestic monetary market was stabilised and the inflation rate was controlled at 1.92%.
In response, Kaproth acknowledged the Vietnamese side's co-operation efforts and highly appreciated the State bank's flexible management of monetary policy tools done as part of efforts to maintain stability in the currency and foreign exchange market and control inflation.
The two sides affirmed that they would continue regular contact in order to share views on arising issues, and at the same time maintain close co-operation moving forward.
the US Department of the Treasury  labeled Vietnam as a currency manipulator in December 2020, accusing the country of improperly intervening in the foreign exchange market in order to gain an advantage for its own exports.
The SBV shortly affirmed that Vietnam did not manipulate its currency and did not advocate currency devaluation, both in official statements and in its actual operations.
Both sides reached an agreement in July 2021 to address US concerns, and the US side later dropped plans to impose tariffs on Vietnamese goods imported into its market.
As part of its semiannual Report to Congress on Macroeconomic and Foreign Exchange Policies of Major Trading Partners of the US, the Department reviewed and assessed the policies of major US trading partners that comprise more than 80% of its foreign trade in goods and services during the four quarters leading up to June 2021.
It concluded that no major US trading partner manipulated the rate of exchange between its local currency and US$ for purposes of preventing effective balance of payments adjustments or gaining an unfair competitive advantage in international trade. 
It noted that both Vietnam and Taiwan (China) continued to meet all three criteria under the terms of the Trade Facilitation and Trade Enforcement Act of 2015 (the 2015 Act) during the period under review.