Trade promotion prioritises medium-term programmes in 2022
Monday, 17:31, 24/01/2022
VOV.VN - Prioritizing medium-term schemes for a number of potential export sectors and outlining activities suitable for each industry and market must be viewed as the key task for this year's trade promotion activities.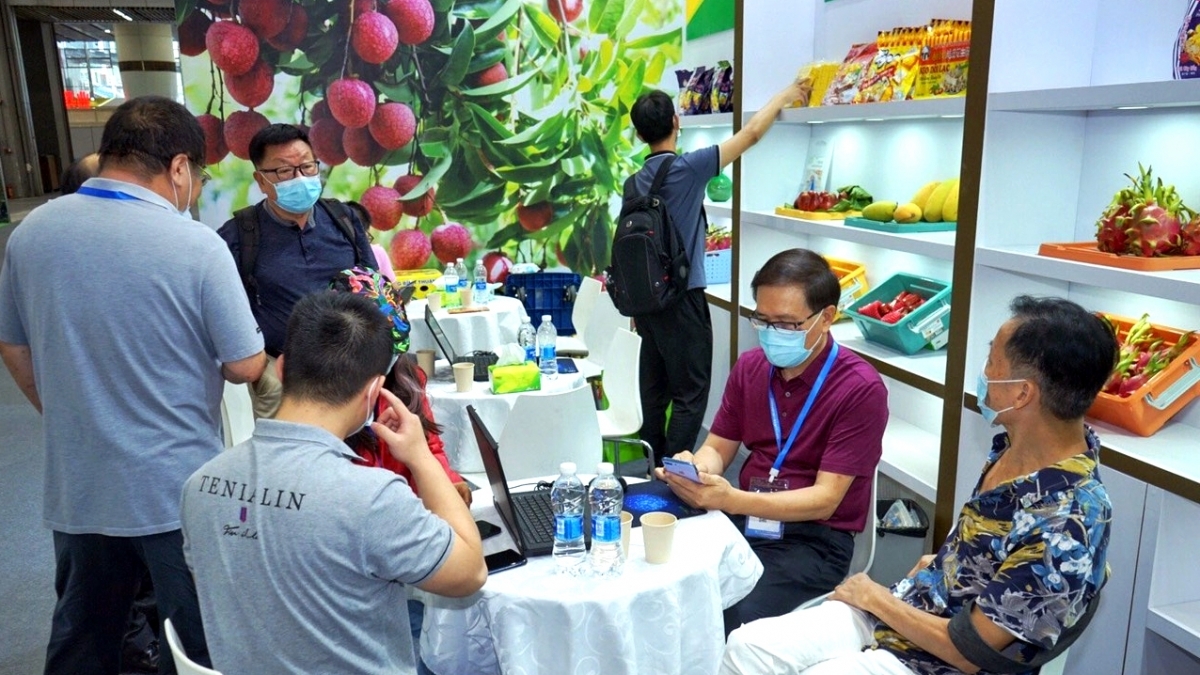 According to Nguyen Thanh Cong, vice chairman of the Son La provincial People's Committee, last year saw Son La be very successful in consuming agricultural products with approximately 400,000 tonnes of fruit. As a means of achieving this, in addition to local efforts, the province received great support from the Ministry of Industry and Trade (MoIT) in carrying out a broad range of trade promotion activities.
Along with Son La, last year the MoIT supported many provinces such as Bac Giang, Hung Yen, and other localities across the country in launching a host of trade promotion events in order to help consume a large amount of farm products.
Under pressure caused by the pandemic, the MoIT remained both active and flexible in deploying trade promotion activities to help farmers consume goods in production areas.
Most notably, the Department of Trade Promotion, instead of using traditional, direct forms of trade promotion, guided and combined efforts to organise more than 1,000 conferences in both online and in-person formats throughout the country.
These trade promotion activities contributed to connecting millions of Vietnamese businesses with importers, along with Vietnamese commercial counselors abroad.
Furthermore, a series of events connecting supply - demand, consumption, export, and the promotion of seasonal agricultural products, while simultaneously providing market information for localities and businesses and stimulating domestic consumption were widely launched, thereby bringing high efficiency. This has greatly helped businesses, cooperatives, and production households overcome difficulties caused by the pandemic.
According to a representative of the Trade Promotion Agency, this year will likely see trade activities eased because the pandemic has been partly contained. However, the primary challenges will come from changes in consumption demand, particularly as transportation costs have yet to go down and more stringent technical standards may be imposed on Vietnamese goods.
With the role of promoting consumption and connecting Vietnamese goods to foreign markets, trade promotion activities are prioritized with medium-term programmes for a number of potential export industries.
In line with this, schemes will be devised to suit each industry and market in line with the synchronous implementation of commitments in the new generation free trade agreements (FTAs).
Moreover, the purpose of the programmes is to mobilize and promote the strength of Vietnamese representative agencies and trade deals abroad in export promotion.
Moving forward, the Ministry will continue to implement the Project "Promoting the application of information technology and digital transformation in trade promotion activities in the 2021 – 2030 period" aimed at supporting firms in having effective access to digital platform-based trade promotion programmes.
As a means of dealing with limited funding sources, trade promotion activities of local, central, and international organisations will be integrated in order to effectively use resources. This will see priority given to activities that connect consumption, stimulate demand, and endogenous growth to address output for agricultural products.
It therefore remains necessary to improve trade promotion capacity in combination with brand building and development as a way of helping Vietnamese enterprises to become involved in high-value products in the global value chain.