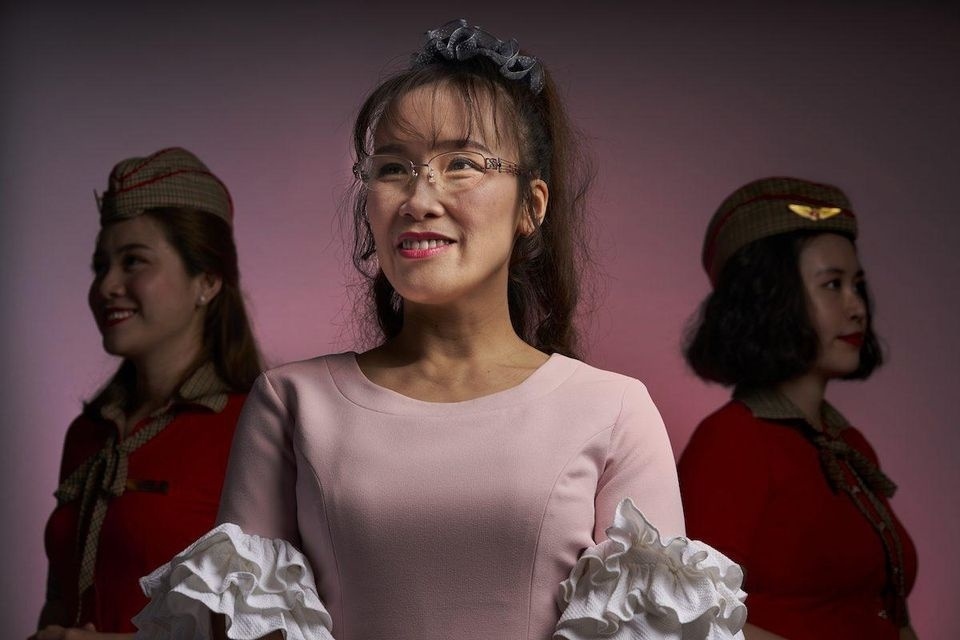 The only female dollar billionaire
In early 2020, Nguyen Thi Phuong Thao, the founder and CEO of Vietjet, for the first time talked to the local press about how she began her business at the age of 17.
"When I was a child, I dreamed of becoming a teacher like my mother. I wished that I could have a stable job as a university lecturer, buy an apartment, and own a motorbike," she told Tuoi Tre.
However, she changed her mind when she got a scholarship to study abroad and witnessed East European countries carrying out 'perestroika' (reform). She believed that Vietnam will also shift from a centrally planned economy to a market economy.
And she started her business. At the age of 21, she got US$1 million. At that moment, one tael of gold could be bought at VND2 million.
If Thao had not made the decision to become a businesswoman at the age of 18, Vietnam would not have such a young female billionaire.
University lecturers becomes businessmen
Truong Gia Binh had great merit in the establishment of the Business Administration Faculty under the Hanoi National University in 1995, where he worked as a lecturer.
In 2006, Binh set up FPT University and gave lectures on Art of Leadership and Business Culture. Later, he became president of FPT, the largest Vietnamese IT group.
Bui Quang Ngoc was a lecturer at the Mathematics and IT Faculty of the Hanoi University of Science and Technology in 1979-1982 and 1986-1995. When joining FPT, he held the post of director of ISC, the predecessor of the ICT divisions of FPT (FPT IS, FPT Software, FPT Telecom and FPT Trading). Later, he became vice chair of FPT.
Tran Mong Hung, former chair of the founding council of ACB, was a banking lecturer (1978-1980).
Meanwhile, Nguyen Tu Quang, now president of BKAV Corporation, better known for anti-virus products and high-end smartphone model BPhone, was also a lecturer at the Hanoi University of Science and Technology after finishing studies at the school.
Businessmen go to school at older age
'Dung Lo Voi' (Dung lime kiln), a well known businessman, received 'Doctor and Master of Business Administration' from Apollo. Meanwhile, his wife received 'Certificate for honorary visiting professor' from the same school.
The awards were given to entrepreneurs with dedications to business and community activities in Asia.
At the age of 73, Le Thanh Than, dubbed as "hubble-bubble businessman" received an honorary bachelor's degree from the World Records University (WRU).
Famous businessmen with no bachelor's degree
Nguyen Thi Nhu Loan, born in 1960 in Phu Yen province, did not study at university. But this did not prevent her from becoming a very successful businesswoman.
She was included in the list of the 15 richest stock billionaires in 2012, listed among top 100 businesswomen honored and granted Bong Hong Vang (Golden Rose) Cub by the Vietnam Chamber of Commerce and Industry (VCCI) and the Vietnam Women's Federation. The cub is awarded annually to honor the most outstanding businesswomen.
Doan Nguyen Duc, better known in Vietnam as 'boss Duc', finished high school in 1982 at the age of 20 and left home for HCM City and attended the university entrance exam. However, he failed the exam, and failed three more attempts.
He became a businessman at the age of 22 and realized that there are many ways to success.
Hoa Sen Group was believed to spend big money to invite Nick Vujicic to come to Vietnam some years ago. The president of the steel manufacturing group is Le Phuoc Vu, who never went to university.
Vu was born in 1963 in Quang Nam. He started his business in 1994 with a corrugated retail unit. In 2001, he set up Hoa Sen JSC in Binh Duong, employing 22 workers. The unit has expanded to Hoa Sen Group.
Duong Ngoc Minh is chair and CEO of Hung Vuong JSC (HVG), chair of Viet Thang Animal Feed JSC (VTF), and deputy chair of An Giang Seafood Import-Export JSC (AGF). He also doesn't have a bachelor's degree.