Samsung to help develop smart factories in Vietnam
Tuesday, 17:09, 22/02/2022
VOV.VN - The Ministry of Industry and Trade and Samsung Vietnam signed a Memorandum of Understanding (MoU) on February 22 to ramp up co-operation in developing smart factories in Vietnam.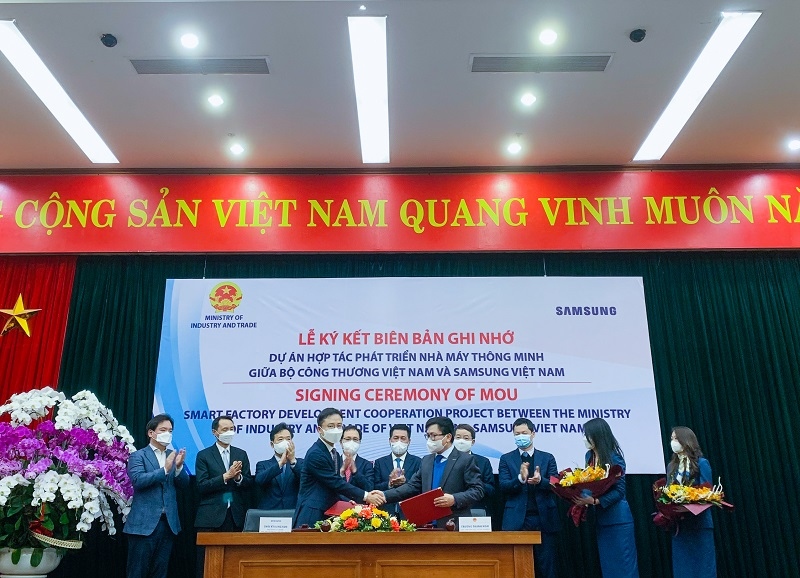 The deal will see both sides study and formulate a co-operation project on developing smart factories in the country, that helps to train 100 Vietnamese experts and provide consultancy for 50 enterprises that implements the pilot project in 2022-2023.
It will strive to improve the expertise of local consultants and assist in improving the production operation capacity on the information technology platform of domestic firms.
Addressing the signing ceremony, Minister of Industry and Trade Nguyen Hong Dien emphasised that this co-operation project is of great significance as it helps elevate Vietnamese industry in the context of Industry 4.0.
"I expect project participants will gain a great deal of useful knowledge and necessary skills to support businesses in meeting domestic demand and simultaneously enhancing their competitiveness within the global value chain," said Minister Dien.
In response, Choi Joo Ho, president of Samsung Vietnam, revealed that Samsung experts will directly provide instructions at the factories of the participating businesses, noting that such support will serve to create a premise for enterprises to enhance their production capacity.
He suggested that the Vietnamese Government examine and introduce policies to support the smart factory model in future.