PV Power, Samsung, LILAMA sign EPC Contract for Nhon Trach project
Monday, 20:44, 14/03/2022
VOV.VN- PetroVietnam Power Corporation (PV Power) and the consortium of Samsung C&T Corporation, LILAMA Corporation have signed an Engineering - Procurement – Construction (EPC) Contract for Nhon Trach 3 and Nhon Trach 4 Power Plant Project (Nhon Trach 3&4 Project), and other relevant agreements.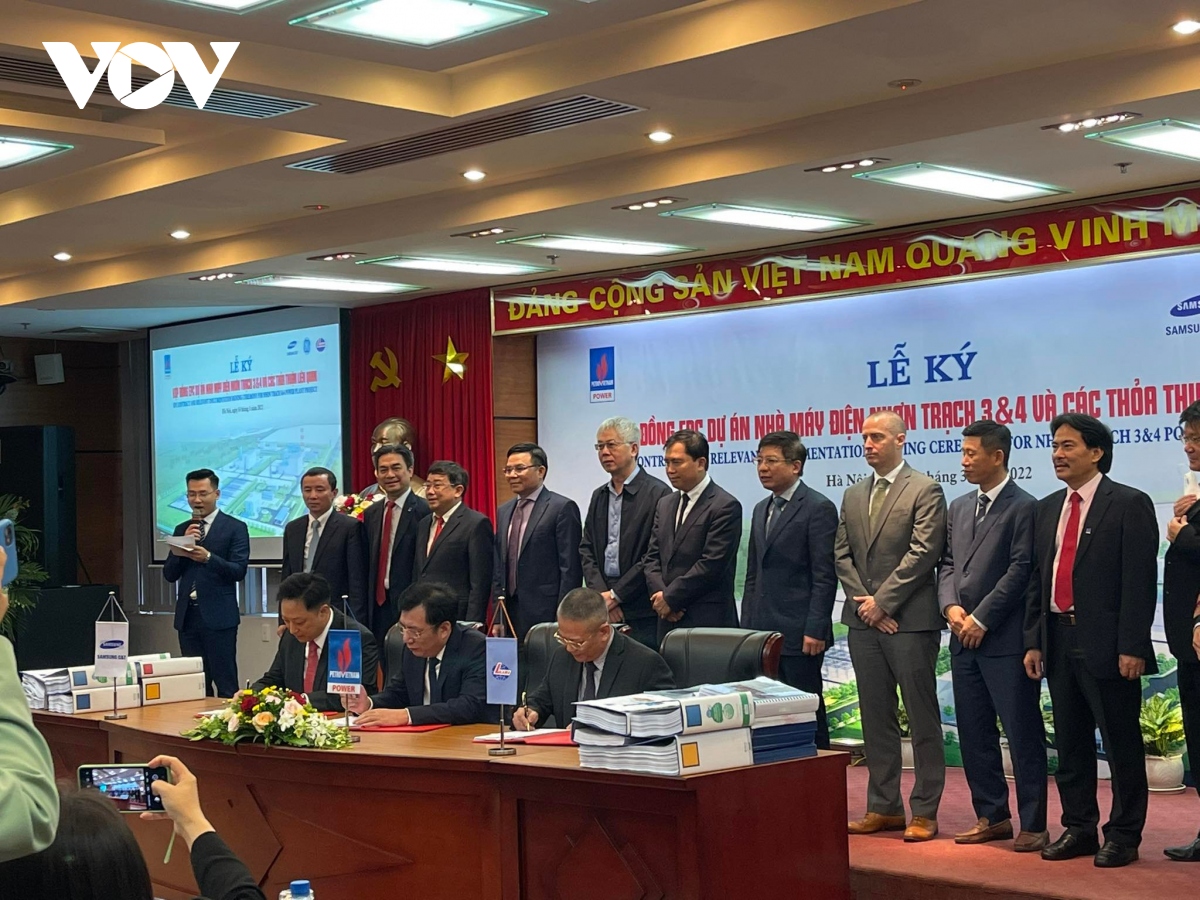 Those in attendance at the signing ceremony held on March 14 in Hanoi, included leaders of the Government, ministries and departments, and representatives from embassies of the US, Japan, and the Republic of Korea in Vietnam, among others.
Nhon Trach 3 & 4 Project, a national project under Power Master Plan VII, was assigned by the Government to PV Power as the Owner with total installation capacity of 1,500 MW and a total investment of US$1.4 billion in Nhon Trach district, Dong Nai province.
It is the first liquefied natural gas (LNG) utilized thermal power project in Vietnam, contributing to the implementation of the nation's commitment to achieving net zero carbon emissions by 2050"by Prime Minister Pham Minh Chinh at the 26th UN Climate Change Conference of the Parties (COP26).
The EPC Contract for Nhon Trach 3 & 4 Project is considered to be the most important contract, fundamentally deciding the success and effectiveness of the Project. The contract value is more than US$940 million (of which the domestic part accounts for 39%).
PV Power has carried out the capital arrangement for the Project for the past time and up to now, the Owner has confirmed to ensure adequate capital arrangement for the project, in which equity makes up for 25% and loans account for 75%, including an ECA loan (US$600 million), foreign commercial loans (US$300 million) and domestic loans (VND4,000 billion).
During the ceremony, PV Power also inked an Extension of Letter of Authorization for a consortium of Citibank (USA) & ING (Netherlands) to coordinate the arrangement of an ECA loan for Nhon Trach 3 & 4 Project.
At the same time, PV Power and SMBC Bank (Japan) signed a mandate letter for a US$ 200 million loan to finance PV Power's investment projects.
Accordingly, Citibank & ING will continue to support PV Power to work with ECA organizations to arrange long-term loans for Nhon Trach 3 & 4 project. In addition, SMBC will become a lender for a ECA loan with no origin binding, no collateral, no domestic 3rd party guarantee required for the purpose of financing PV Power's projects, including Nhon Trach 3 & 4 Project.
Nhon Trach 3&4 Project is set to start operation in the 2024 – 2025 period, which will stably supply about 9 billion kWh per year to the national electricity system.
The project will contribute to promoting clean energy transition in Vietnam, increasing tax revenue by thousands of billions of VND per year for the locality, while creating jobs for thousands of workers during construction as well as in operation.
The project is expected to open up a new chapter in the formation and development of LNG -project chains in the nation.