President Phuc witnesses signing of co-operation agreements with Switzerland
Saturday, 15:58, 27/11/2021
VOV.VN - President Nguyen Xuan Phuc was delighted to see an array co-operation agreements signed in the fields of finance-banking, energy, aviation, logistics, education, and healthcare between the nation and Switzerland.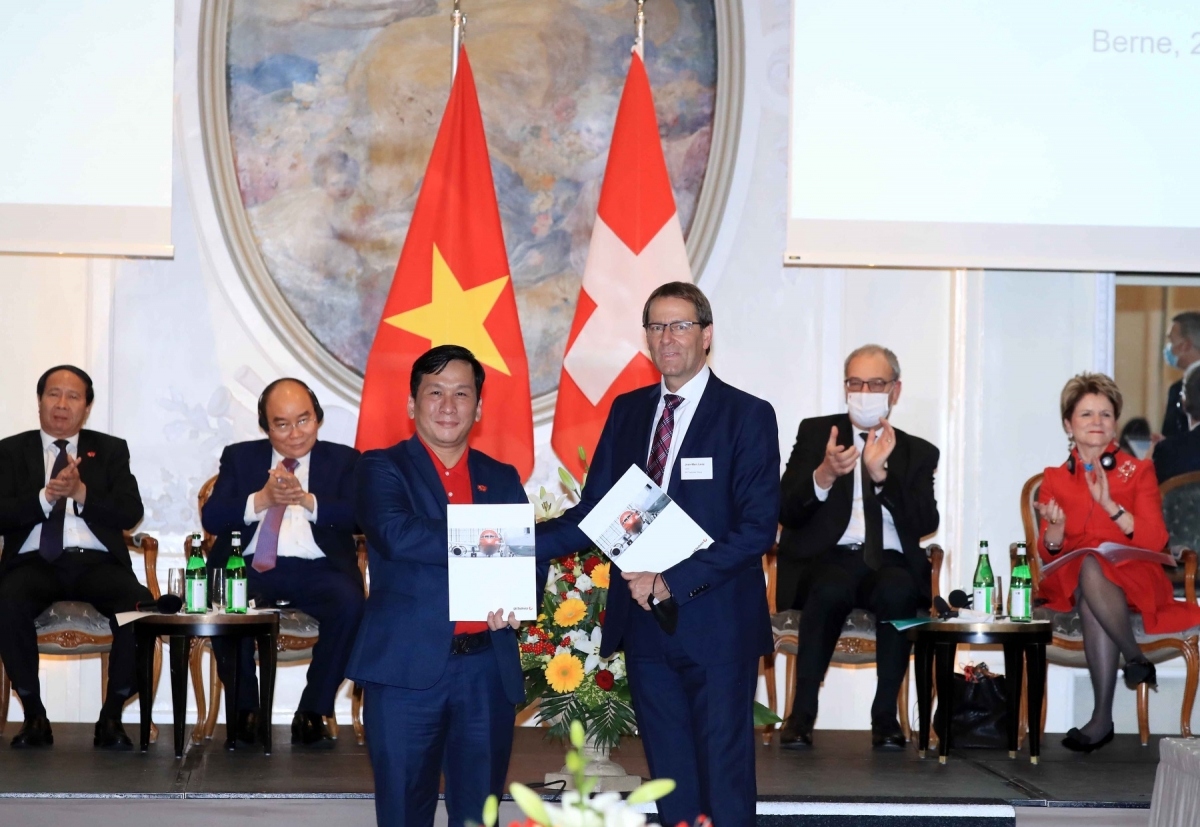 Upon addressing the Vietnam-Switzerland Business Forum on the afternoon of November 26 (local time), President Phuc emphasised that the signing represents a testimony to the great potential that exists for expanded co-operation between the two countries.
During the course of the forum, in the presence of President Phuc and Swiss President Guy Parmelin, both countries' businesses signed and exchanged a series of co-operation documents across a number of fields.
The event saw Vietjet and SR Technics, a world leading maintenance, repair and overhaul (MRO) service provider, ink a Memorandum of Understanding (MoU) worth US$150 million, with the deal involving the provision of MRO services on Vietjet's CFM56-5B engine fleet, installed on their Airbus A320 and A321 aircraft.

Under the terms of the MoU, work on the engines will be carried out at SR Technics' world-renowned facilities at Zurich Airport in Switzerland and in Vietnam. The MoU also includes providing engine maintenance, technical and training services, component requirements and repair, in addition to setting up a new Aviation training centre as a joint venture between Vietjet and SR Technics.
Furthermore, Vietjet and Swiss Aviation Software (Swiss-AS), the world's leading provider of aviation maintenance solutions based in Switzerland, also signed a strategic co-operation agreement to further extend Vietjet's adoption of Swiss-AS's maintenance and engineering solution AMOS in support of Vietjet's fleet.

The two parties will therefore strive to broaden co-operation in order to cover various spheres, strengthening the existing long-term strategic partnership over the next decade. Swiss-AS and its relevant subsidiaries will provide Vietjet the added platform of AMOS mobile/EXEC for aircraft technical management on mobile devices, thereby allowing full automation and digitalisation for Vietjet's engineers.

Moreover, Vietjet will also make use of the system with greater capacity and update other AMOS modules in a bid to better serve in-house management, including automation of planning, aircraft scheduling, and budget management, among other things. The deal will also see Swiss-AS provide the AMOS "train the trainer" programme for Vietjet with notable frequency and scale in the near future.
Speaking at the MoU signing ceremony, Jean-Marc Lenz, CEO of SR Technics, said, "We are very proud that Vietjet is committing to a long-term partnership with SR Technics."
In response, Dinh Viet Phuong, managing director of Vietjet, said, "The signed agreements between Vietjet and our strategic partners today pave the way for further development, especially in the process of transferring and adopting aviation technologies and setting up aviation academy to positively contribute to the development of Vietnam's aviation industry. We cherish the cooperation, which has been nourished by a long-standing relationship between Vietnam and Switzerland and especially on the occasion of the Vietnamese President's official visit to Switzerland."
AMOS is a comprehensive software and fully integrated solutions for maintenance, repair, and overhaul (MRO) in the aviation industry that is developed and distributed by Swiss AviationSoftware.
The same day saw President Phuc and his Swiss counterpart President Parmelin co-chair a Vietnam - Switzerland Business Forum in the Swiss capital of Bern.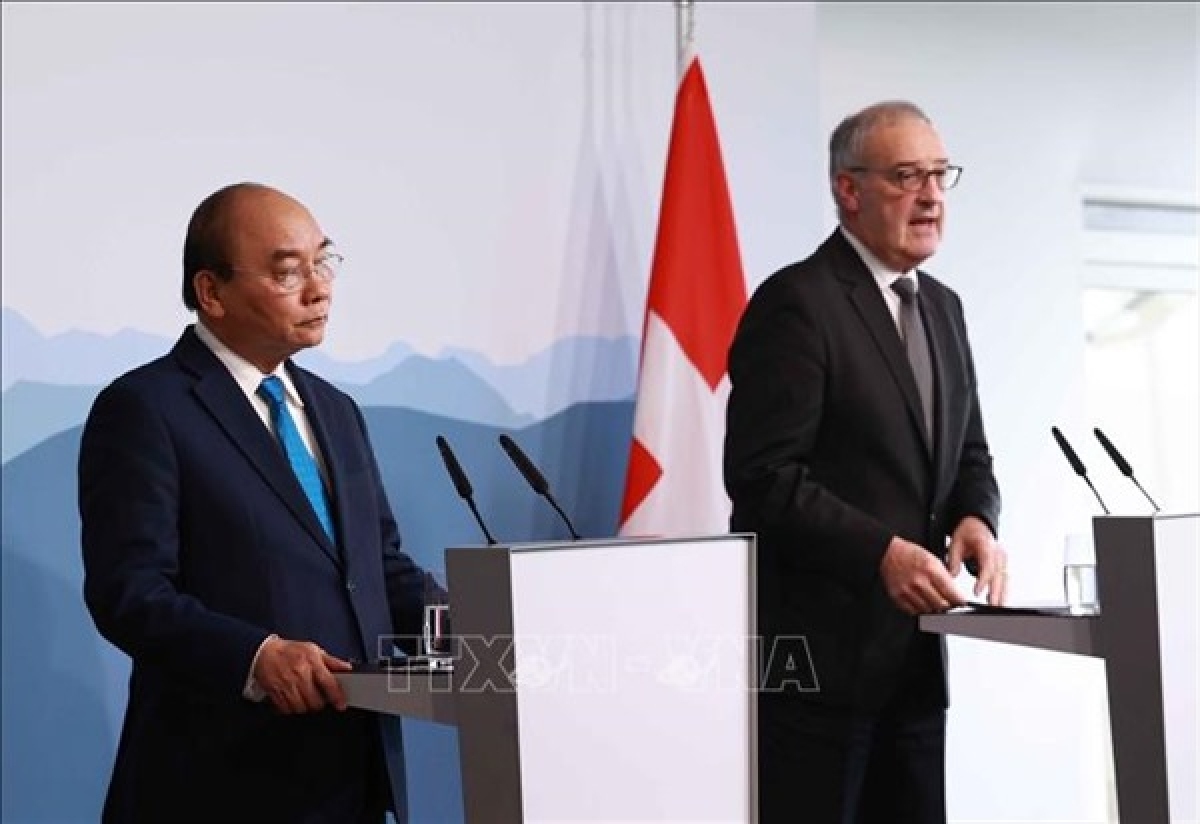 Upon addressing the forum with the attendance of representatives from over 100 businesses of both countries, the Vietnamese leader called on Swiss businesses to invest in the Vietnamese market and partner with Vietnamese enterprises in areas where Swiss firms have strengths and the Vietnamese side gives priority to. Notable sectors include banking and finance, science and hi-technology, innovation and digital transformation.

For his part, President Parmelin highlighted the huge potential that exists for stronger co-operation between the two countries, along with the necessity of implementing fresh co-operation frameworks aimed at encouraging Swiss businesses to invest in the Vietnamese market.

The attention and commitment of businesses and representatives from the private Swiss sector at the forum indicates that Vietnam represents a priority for the European country in terms of economic co-operation, he said. The Swiss President went on to reveal that no less than 70 million CHF are expected to be invested in economic development projects throughout Vietnam during the 2021 to 2024 period.

The COVID-19 crisis has served to demonstrate the need for a legal framework which can promote close bilateral economic ties, he noted.

The two countries also signed an investment protection agreement, a double taxation avoidance agreement, along with an agreement on protection of intellectual property rights, President Parmelin said. He added that these represents important legal foundations for Vietnamese and Swiss businesses to enhance their partnership and to further bolster bilateral relations between the two economies.

Regarding a free trade agreement (FTA) between the Vietnamese side and the European Free Trade Association (EFTA), which has been negotiated by the two sides over the past nine years, President Parmelin expressed hope that the countries will be able to devise solutions to accelerate the talks.

Concurring with the viewpoint put forward by his Swiss counterpart, President Phuc said that immediately after his talks with President Parmelin on the morning of November 26, the Vietnamese Minister of Industry and Trade held a meeting with the Minister of State of Switzerland. This took place as a means of promoting the swift conclusion of negotiations and the signing of the EFTA-Vietnam FTA for the benefit of both sides.

The Vietnamese President briefed Swiss investors on the potential and investment opportunities that exist in Vietnam, saying that the country has changed from merely attracting foreign direct investment (FDI) capital to co-operating with foreign investors in the spirit of equality, mutual development, and benefits. This is along with taking on responsibilities for society, employees, and environmental protection.

The nation selects and prioritises investment projects in fields such as high technology, innovation, research, and development, he said, adding that the nation pledges to co-operate and create favourable conditions for its businesses to join value chains. In addition to promoting the digital economy and actively contributing to the country's sustainable socio-economic development.

President Phuc therefore suggested that the two countries step up extensive communications on each side's investment policies to their businesses, especially in finance and banking, science and high technology, innovation and digital transformation.

The two nations' relevant agencies should also strive to encourage trade and investment flows to each other, thereby increasing the exchange of business delegations in order to learn about markets and opportunities for investment and business connections, he said.

The State President called on Swiss businesses to support the Swiss Government to supply COVID-19 vaccines to the nation through the COVAX Facility. It is also hoped that they will support the supply of medical equipment and transfer technology for COVID-19 treatment drugs research and production to the country.

Moving forward, the nation will exert greater efforts to create the business environment that it has committed to in new-generation FTAs, boasting high-quality and comprehensive standards, including maintaining socio-political and macroeconomic stability. Other efforts include removing bottlenecks faced by the economy in terms of legal institutions, infrastructure and human resources, developing supply chains, as well as reducing logistics and administrative costs.

Swiss businesses will be able to enjoy other opportunities when they invest in the Vietnamese market as the country has joined 15 FTAs, including large-scale and high-standard deals such as the Comprehensive and Progressive Agreement for Trans-Pacific Partnership (CPTPP) and the Vietnam-EU FTA, he added.