PM Chinh meets leaders of major Japanese digital transformation groups
Wednesday, 10:52, 24/11/2021
VOV.VN - Prime Minister Pham Minh Chinh and his entourage held a working session on November 24 with leaders of several major Japanese groups involving in digital transformation as part of his ongoing trip to Japan.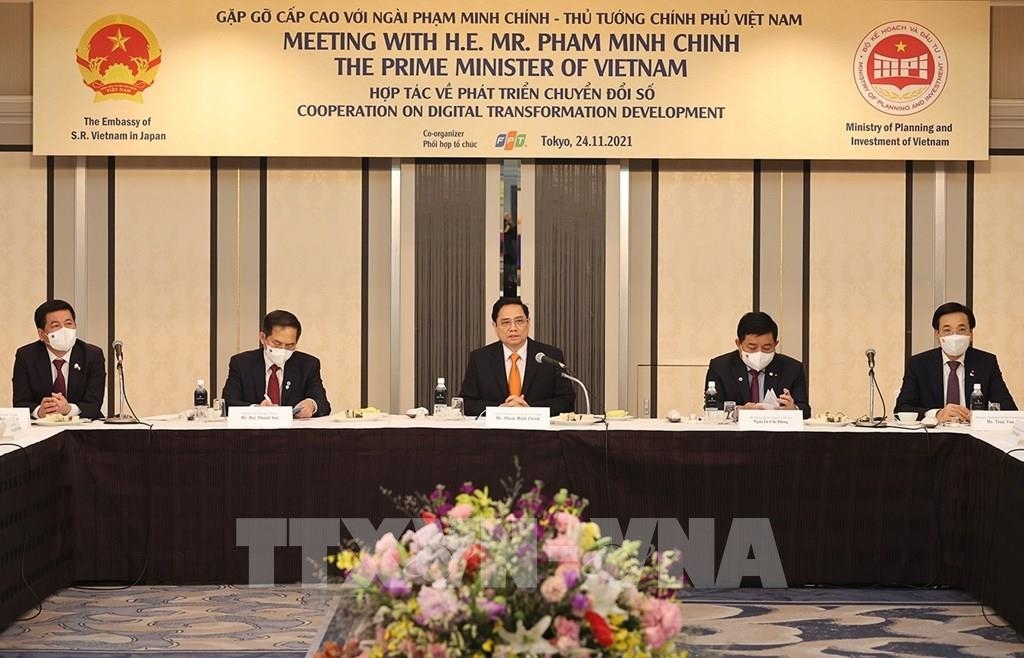 Upon addressing the meeting, PM Chinh said that along with responding to climate change and achieving green growth, digital transformation is a big global trend, with the COVID-19 pandemic further promoting digital transformation in many countries.
The nation is conducting digital transformation as a way of promoting interconnected approach and public-private partnership.
The country boasts several advantages in terms of economic development and digital transformation, most notably having a fast-growing and highly open economy. This can be seen by the fact that the nation has signed 17 free trade agreements (FTAs) with more than 60 economies, including major markets such as the United States, the EU, Japan, China, the Republic of Korea (RoK), and ASEAN.
"Vietnam's ability to adapt and embrace major development trends in the world, including digital technology and digital transformation, is very obvious. International friends and partners all support the digital transformation process in Vietnam, thereby creating plenty of opportunities and motivation for Vietnam to conduct digital transformation in a faster fashion," the Vietnamese Government leader said.
PM Chinh went on to stated that the country has come up with a national digital transformation programme ahead to 2025 and beyond to 2030, with three pillars: digital government, digital economy, and digital society.
The contribution of the digital economy as part of the overall national economy has witnessed a sharp increase, with the digital economy set to contribute 20% of GDP by 2025 and 30% by 2030.
This digital transformation scheme is therefore closely linked with green growth and climate change response towards the ultimate goal of bringing a prosperous life to people, in accordance with the global trend.
Moving forward the country will therefore continue to fine-tune the digital transformation institution in line with reality. Along with these efforts, the nation has also devised a human resource training scheme, first of all to raise public awareness regarding the importance of digital transformation, he said.
"Digital transformation is not only led by the Government but also requires the participation of people and businesses, taking people as the center, as the subject, and all policies must be towards people, and businesses," PM Chinh emphasised.
With regard to specific issues of shared concern, PM Chinh shared that the Vietnamese policy is to rapidly modernise the financial and banking sectors so that these fields can take the lead in relation to digital transformation.
"Like other countries, Vietnam has its own approach, suitable to its conditions and circumstances, but not separate from the general approach of the world, because only then can we can only co-operate," PM Chinh stressed.
According to Deputy Minister of Information and Communications Nguyen Huy Dung, the COVID-19 pandemic has served to strongly promote digital transformation locally, with the proportion of online public service users doubling to 24% from a mere 12% in just one quarter due to the COVID-19 pandemic.
Moreover, as many 80% of Vietnamese students are learning online, higher than the average rate of more than 60% of the Organization for Economic Cooperation and Development (OECD).
Regarding human resources, the country currently has approximately one million workers in the information technology industry, moving into the 2025 to 2030 period the nation requires two million to 2.5 million workers for this field.
During the course of the meeting, Minister Dung said that the nation is implementing a scheme aimed at supporting businesses in terms of digital transformation for the 2021 to 2025 period. According to this, by 2025 100% of enterprises will be aware of the digital transformation; a minimum of 100,000 businesses will receive support through the programme, and a minimum of 100 supported firms will represent typical successes in terms of digital transformation, adding that Japanese businesses can actively become involved in this process.