Mozambique to serve as gateway for local businesses to penetrate SADC
Tuesday, 20:55, 21/06/2022
VOV.VN - Mozambique will be the gateway for Vietnamese businesses to penetrate the member countries of the Southern African Development Community (SADC).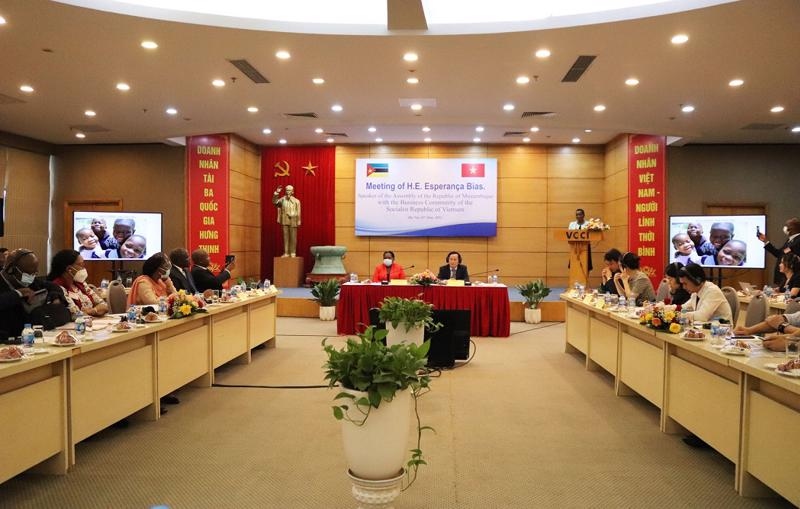 Mozambican Assembly President Esperanca Laurinda Francisco Nhiuane Bias made the statement during a meeting on June 21 with the Vietnamese business community as part of her ongoing official visit to the nation at the invitation of National Assembly (NA) Chairman Vuong Dinh Hue.
On behalf of the Vietnamese business community and the Vietnam Chamber of Commerce and Industry (VCCI), welcoming the official visit to Vietnam by the top Mozambican legislator, Pham Tan Cong, VCCI chairman expressed his confidence that the visit will help further deepen the sound traditional relationship between the two countries amid both nations celebrating the 47th anniversary of their diplomatic ties.

According to the VCCI chairman, besides political cooperation, economic and trade cooperation between the two countries has shown positive signs in recent times. During the 2020-2021 period, despite being affected by the COVID-19 pandemic, the bilateral trade turnover still reached more than US$150 million, of which Vietnam exported rice, electric cables, fertilizers, apparel products, iron and steel and imported from the Eastern African nation bran, cashew nuts, coal, animal feed, wood, and ore.
Regarding investment, the Viettel Military Industry and Telecoms Group (Viettel) has run a joint venture project with SPI Company on telecommunications investment in Mozambique which is operating stably and is considered the most successful investment project of Viettel in Africa.
In terms of agriculture, the two countries have cooperated in research and development of food crops in Mozambique during the 2013 to 2017 period, of which the Vietnamese Government contributed US$1.96 million, and Mozambique donated US$210,000. The project is currently under consideration to continue with phase 2 in the coming time.
The VCCI leader emphasized that Mozambique is a large country, with a population of over 33 million and the gateway to Southeast Africa, which still boasts huge potential for businesses to enhance connectivity.
Vietnamese businesses are able to fully scout out investment opportunities in Mozambique, especially in the fields of agriculture , heavy industry, infrastructure development, finance, healthcare, information technology, and telecommunications, Cong said.
In line with this, VCCI Chairman Pham Tan Cong suggested Vietnamese businesses continue to strengthen information exchange and seek opportunities for cooperation and trade. Besides the traditional products mentioned above, local businesses can study  a number of products that have each other's strengths or hold great potential for promotion such as agricultural products, construction materials, and medical supplies of Vietnam or some agricultural and mineral products of Mozambique, he went on to say.

In her address, the Mozambican Assembly President expressed her hope that after this meeting, many Vietnamese businesses will come to Mozambique and stand side by side with their Mozambican peers.
She suggested both countries' businesses take full advantage of cooperation agreements between Vietnam and Mozambique and affirmed that Mozambique will be the gateway for Vietnamese businesses to penetrate into member countries of the Southern African Development Community (SADC).
During the meeting, the Vietnamese business community was also updated on information regarding policies and investment incentives for foreign businesses by representatives from Mozambican trade promotion agency.
The same day, Speaker Esperanca Laurinda Francisco Nhiuane Bias visited, during which she said the Mozambican Assembly will improve policies and laws to facilitate the investment and operation of Viettel and other foreign firms.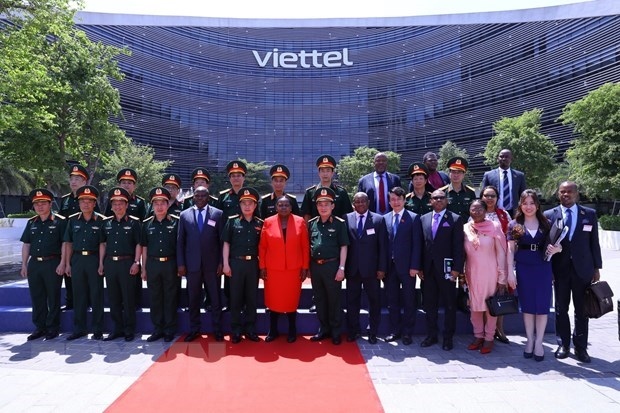 She also showed her interest in digital transformation, in which Viettel is taking the pioneering role in Vietnam. She suggested the group share its experience in this regard, and coordinate with Movitel, a joint venture between Viettel and Mozambique's company SPI, to promote digital transformation in the Mozambican legislature.
Nhiuane Bias described Viettel's investment in Mozambique as the success of cooperation between the two countries, and noted her wish that the group would further invest in the country while serving as a bridge between Vietnamese and Mozambican enterprises.
According to Colonel Tao Duc Thang, Viettel Chairman and General Director, the group has been operating in Mozambique for 10 years through Movitel, which has total investment of more than US$ 600 million, 70% from Viettel, and has been seen as an effective cooperation project between the two countries.

Operational since May 2012, Movitel has led the way in the African nation with 6 million subscribers, covering more than 85% of the population across all 11 provinces.

Viettel, which has played a key role in digital transformation in the Vietnamese National Assembly and Government, wishes to help the Mozambican legislature in this sphere via its joint venture, Thang emphasized.

Earlier the same day, Bias and her entourage visited the National Committee for Disaster Response and Search and Rescue, during which both sides shared experience in natural disaster response and search and rescue operations.