More room for Vietnam – Russia trade, investment cooperation
Wednesday, 23:42, 01/12/2021
VOV.VN - State President Nguyen Xuan Phuc on December 1 attended a Vietnam – Russia business forum in Moscow where he suggested both sides should seize opportunities to fully tap into their cooperation potential.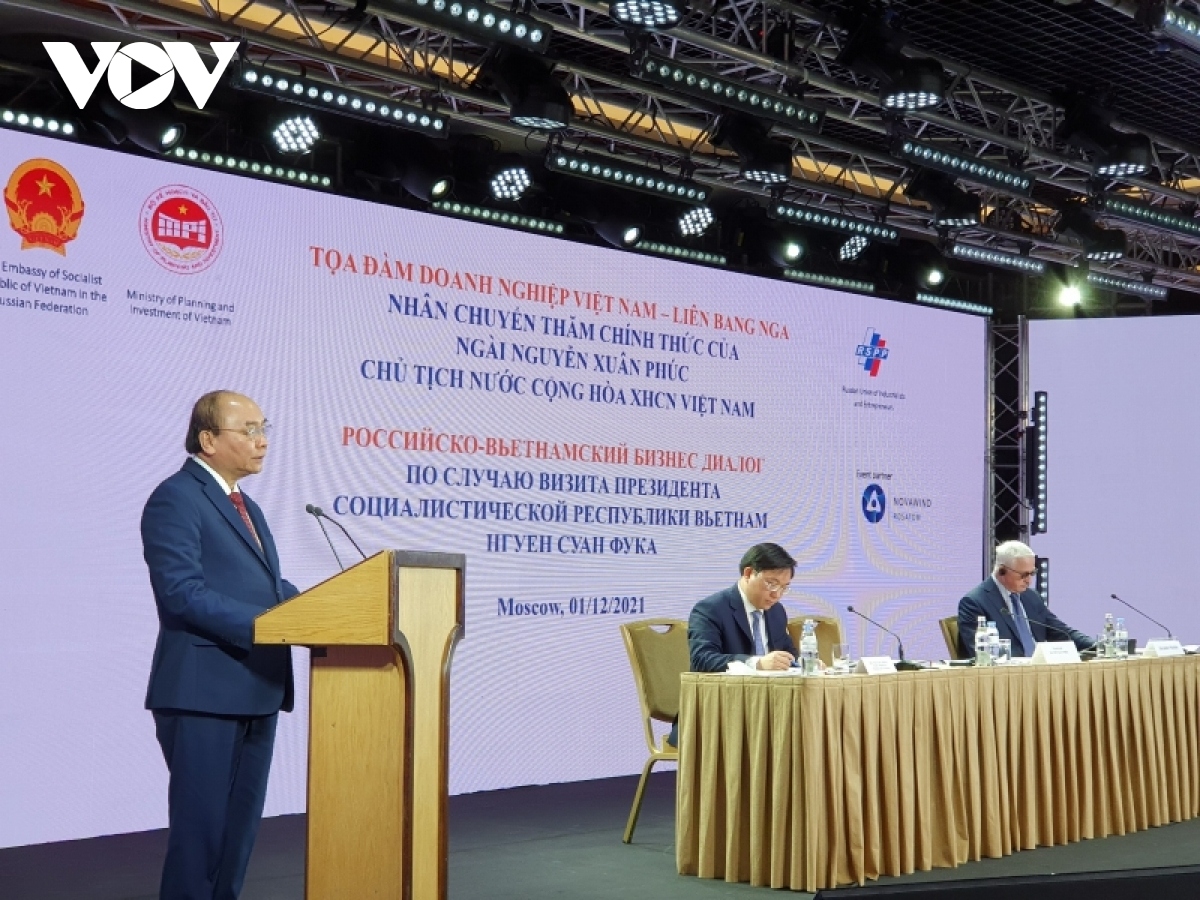 Addressing the forum, Phuc noted that the two-way trade value between Vietnam and Russia currently stands at US$5 billion – a rather modest figure compared to the two countries' potential. In addition, there are 150 joint investment projects valued at just US$1 billion which is incommensurate with their fine political relations.
He suggested that ministries, agencies and businesses of the two countries promptly remove difficulties and create the best possible conditions for their trade and investment to increase 15fold and 3fold respectively in the coming time.
"During earlier talks, President Vladimir Putin and I discussed orientations for strategic cooperation between the two countries, especially in the areas of trade and investment, as well as joint venture development," Phuc told the forum.
According to the President, despite the negative impact of the prolonged COVID-19 outbreak, Vietnam has retained positive economic growth this year. In Southeast Asia, he said Vietnam is the third largest economy and an attractive investment destination for foreign businesses. It is also considered as one of the 20 economies that have successfully attracted investment.
The President expected that Russian businesses would visit and study the Vietnamese market more frequently to find opportunities for cooperation.
"Vietnam develops stable, highly predictable policies and a transparent, attractive business climate to help Russian companies feel secure when doing business in the country," said the Vietnamese State leader.
"We not only consider Russian businesses as foreign investors, but as our close friends. Your success is also our desire and pride," he stressed.
At the forum, businessmen of the two countries expressed their desires to invest in each other's markets on the back of the Vietnam – Russia traditional relationship and their investment incentives.
Alexander Shokhin, President of the Russian Union of Industrialists and Entrepreneurs, suggested Russian and Vietnamese businesses make the most of the free trade agreement – the first trade deal that the Eurasian Economic Union has already signed with a non-member like Vietnam.
"Cooperation between the two countries remains modest. Russia has invested US$1 billion in Vietnam, and Vietnam has invested about US$3 billion in Russia. We have had meetings with Eurasian Economic Union member countries and expect to deploy new investment projects in Vietnam in the coming time," said Shokhin.
Later President Phuc witnessed the signing of a number of cooperation in various areas, including banking and finance, energy, and health care between Vietnamese and Russian businesses.