Japanese businesses poised to increase investment in Vietnam
Thursday, 15:50, 22/09/2022
VOV.VN - Many Japanese enterprises have plans to expand their investment activities in Vietnam, which is considered by the Japanese business circle as the second most attractive investment destination after the US, according to Nakajima Takeo, chief representative from the Japan External Trade Organization (JETRO).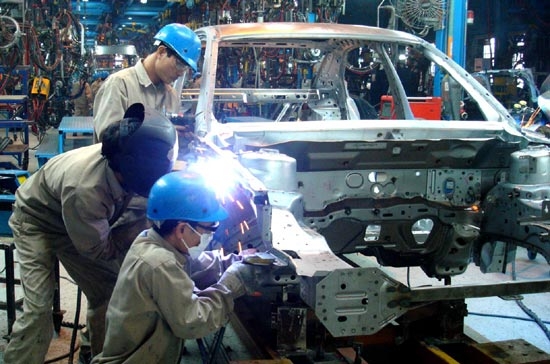 Speaking at a recent conference held with foreign investment enterprises with the theme 'Overcome challenges, seize opportunities, cooperate for development', Takeo said that despite direct investment from Japan dropping in the first half of the year, Vietnam recorded an impressive growth rate of more than 59% in 2021 and more than 45% this year.
This represents the highest figure ASEAN states.
The survey conducted by the JETRO in 2021 indicates that 55% of Japanese enterprises in Vietnam are set to expand their business and are becoming increasingly interested in value-added products.
Another JETRO survey of more than 1,700 companies in Japan highlights the view that the Vietnamese market is second only to the US in terms of attractiveness.
In an earlier interview conducted with "The World and Vietnam" in early May, Sasaki Nobuhiko, CEO of JETRO, said that the number of Japanese companies operating in Vietnam is increasing, with roughly 2,000 Japanese enterprises is currently operating in the country.
Japan's total investment capital stands at US$64.5 billion across 4,935 projects in Vietnam. He also reiterated that the nation is Japan's third largest export market whilst the Far East country is the fourth largest export market for Vietnamese goods.
Explaining the nation's attractiveness to Japanese businesses, Hayashi Nobumitsu, governor of the Japan Bank for International Cooperation (JBIC), praised Vietnamese efforts in maintaining macroeconomic stability, while describing Vietnam as an attractive destination for Japanese financiers.
In response, Vladimir Kolotov, director of the Ho Chi Minh Institute at St.Petersburg National University, commented that many factors serve to attract investment in Vietnam. This includes the stability of the political regime, the transparency and predictability of the investment environment, the gradual openness of some sectors of the economy for the entry of foreign capital, along with the fine-tuning of laws.
Another key advantage is that Vietnam boasts a young population with citizens from 25 to 54 years old accounting for nearly 45% of the national population, while 17.8% are people aged 15 to 24.
Vietnam has also sent its best students to study in Japan, the US, Australia, Russia, and other countries.
Kolotov emphasised that countries like Japan have received tens of thousands of international students and technical interns from Vietnam.
Upon their return, they utilise their experience and often work at Japanese firms.
In Japan, labour costs are very high, whilst Vietnam has been successful in combining the use of foreign business experience with a healthy patriotism.
Kolotov affirmed, "Vietnam is actively integrating into the global production chain, which is facilitated by the presence of large multinational companies in the country, namely Japanese car giants."