HCM City strengthens connectivity with foreign traders
Thursday, 18:29, 31/03/2022
VOV.VN - Ho Chi Minh City desires to enhance connectivity with representative offices of foreign traders to ramp up trade and investment promotion activities in the city in the future, according to insiders.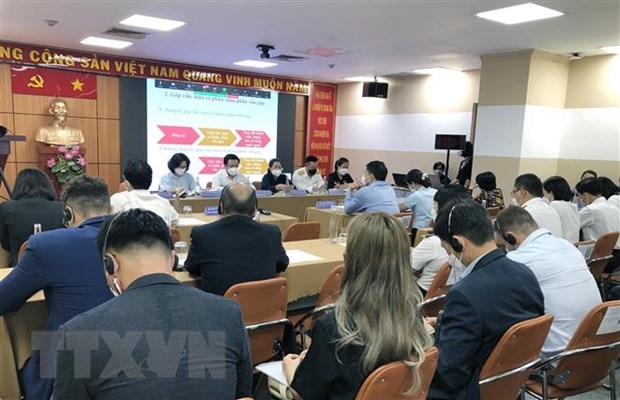 This information was unveiled during a meeting on March 31 between representative offices of foreign traders in Vietnam and state management agencies based in Ho Chi Minh City. 
During the function, Le Huynh Minh Tu, deputy director of the municipal Department of Industry and Trade, revealed that the city is home to roughly 1,900 representative offices of foreign traders from 65 countries and territories worldwide.
At present, these offices have been in the process of conducting market research, ramping up trade promotion activities and offering investment opportunities. This has been done while simultaneously making a significant contribution to the city's socio-economic development and elevating Vietnamese-branded goods to the global market, Tu added.
Thanks to that, Vietnam has turned into one of the countries boasting the highest average export growth in the world and the region, with an average growth rate of 14.6% in the 2011 to 2020 period and 19% last year.
Through the trade promotional activities of representative offices of foreign traders, local consumers and businesses have greater opportunities to gain access to high-quality goods and advanced technologies in order to improve the quality of life and efficiency in production activities. 
Tu noted that the Ho Chi Minh City Department of Industry and Trade plans to organise consultations to share experience and co-operate alongside representative offices to ramp up trade and investment promotion to ensure the country's deeper participation in the global value chain.  It is essential to accelerate co-operation in the spheres of digital economy, e-commerce, logistics, and industry.
Moreover, a number of investment procedures and preferential policies for foreign investors were introduced at the event.
From January 1 to March 20, total foreign investment capital in the city reached US$406.6 million, a fall of 40.1% against the same period last year.
Notably, investment capital from Singapore, the Republic of Korea, and Japan accounted for 74.4% of total newly-registered capital.