Fruit, vegetable exports sustain growth for second month in a row
Tuesday, 11:51, 09/08/2022
VOV.VN - Vietnam's fruit and vegetable exports in July recorded growth for the second consecutive month, increasing 0.3% to US$260 million over June thanks to positive signs recorded in China, the country's largest export market.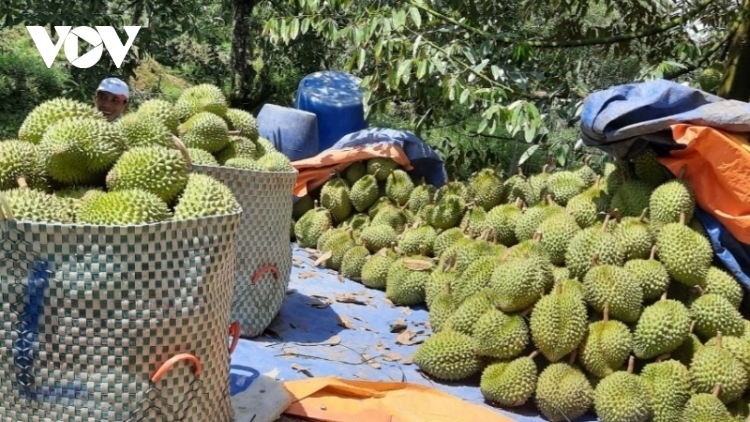 These promising results can largely be attributed to the recent convenient customs clearances for fruit and vegetable exports via border gates, after China has granted a license for the import of several Vietnamese fruit and vegetable products via official channels.
The Chinese side has agreed to pilot the import of Vietnamese passion fruit through border gates in Guangxi province as of July 1, while the General Administration of Customs of China (GACC) has recently signed a protocol relating to phytosanitary requirements for durian exports from Vietnam as of July 11.
However, experts point out that the sector's growth momentum is not anticipated to make any breakthroughs this year due to China's 'Zero-COVID' policy, the Russia-Ukraine conflict, and high inflation impacting countries globally.
In addition, relevant food safety and hygiene issues remain a barrier to Vietnamese fruit and vegetable exports to foreign markets.  
Statistics compiled by the General Department of Vietnam Customs reveal that fruit and vegetable exports to the Americas surged by 21.9% to US$162.1 million, while exports to Europe declined slightly 6.9% to US$144.4 million compared to the same period from last year.
Overall, the country's total export value of fruit and vegetables throughout the seven-month period dropped by 17.1% to US$1.7 billion compared to last year's corresponding period.
Vietnamese businesses have been advised to improve the quality of agricultural products, meet stringent standards set by fastidious import markets, and diversify export markets in order to avoid a reliance on traditional markets such as China moving forward.