Farm exports enjoy robust growth in opening days of Lunar New Year
Tuesday, 17:45, 15/02/2022
VOV.VN - Vietnam's agricultural exports witnessed impressive growth following the Lunar New Year (Tet) festival, with several companies shipping their export batches to high-end markets.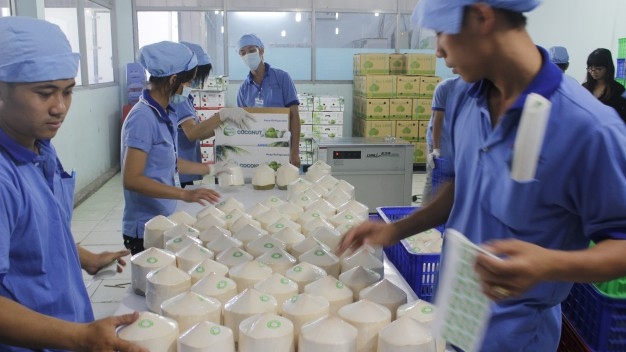 Nguyen Van Thu, director of GC Food Company from the southern province of Dong Nai, revealed that the company also shipped its first container of farm produce to the Japanese market on the initial days of the New Year.
In the year ahead GC Food also aims to earn a revenue of VND350 billion, up 67% compared to 2021, with further plans to build an additional VND100 billion factory processing frozen fruit and vegetables this year for export to markets such as Japan, the Republic of Korea (RoK), and the Middle East.
Nguyen Dinh Tung, general director of Vina T&T, said that the company has had sufficient export orders both during and after Tet, with typical products such as dragon fruit, rambutan, durian, longan, and mango being shipped the US market.
The firm also shipped durian and mango to Canada and Australia, while simultaneously exporting fresh coconut products to the RoK and Japan.
Tung emphasized that after Tet, the company exported 20 containers of ST25 rice to the United States, adding that the firm has exerted great efforts in order to develop brands for the rice variety over the past two years.
Pham Thai Binh, general director of Trung An Hi-tech Agriculture Joint Stock Company in the Mekong Delta of Can Tho, outlined that the company delivered three shipments of goods to Malaysia, Germany, and Qatar on the sixth day of the Lunar New Year.
According to experts, the agricultural sector is likely to achieve a growth rate of 3% this year, with export turnover reaching over US$50 billion.