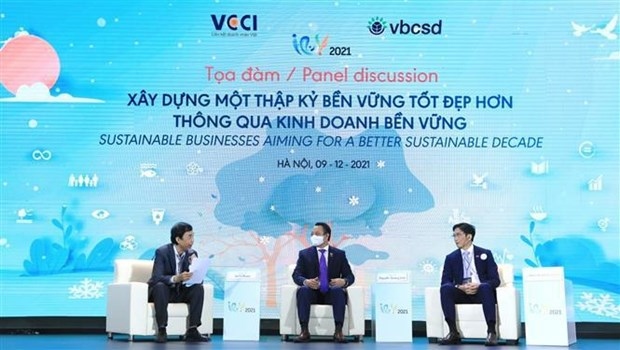 As sustainable development has become a worldwide trend, the Government of Vietnam has incorporated Sustainable Development Goals (SDGs) into its socio-economic development strategies, Dam told the Vietnam Corporate Sustainability Forum (VCSF) 2021 held in Hanoi by the Vietnam Chamber of Commerce and Industry (VCCI) and its partners.

Realising all 17 SDGs is a huge challenge to every nation, he said, noting that Vietnam has so far fulfilled two SDGs in Quality Education, and Responsible Consumption and Production. The country has seen progress in other SDGs but there remains a big gap in realising the SDGs regarding infrastructure, and land and maritime resources, he said.

Over the last two years, each nation, each community and each enterprise have learned from their own experience in adapting to the pandemic, he continued.

In the face of COVID-19, each nation, community, enterprise and individual must be better aware of their responsibility for protecting their beloved and society, he stated, adding that they must sacrifice immediate interests for long-term benefits of their own and others.

The Deputy PM went on to applaud many firms for aiding Vietnam's COVID-19 fight, stressing that all Vietnamese companies, 97% of which are small and medium enterprises (SMEs), must stay together to develop a business community for sustainable development.

"Don't consider it as a playground only for major corporations," he said, stressing that "it is a play field for all businesses and people."

At the forum, speakers put forward recommendations on how to further improve legal frameworks and create a favourable business climate for enterprises to achieve sustainable development.