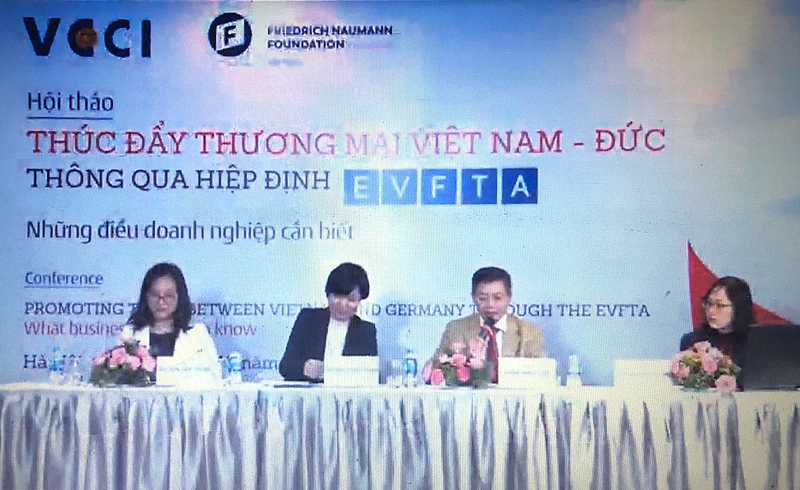 The event opened with the theme of "Promoting trade between Vietnam and Germany through EU-Vietnam Free Trade Agreement (EVFTA)" with the primary aim of providing greater information on the various business opportunities that exist within the German market by utilising opportunities of the trade pact.
At present, Germany represents an important trade partner for Vietnam and the second largest export market in the EU.
Featuring a complementary product structure, the country boasts strengths in light industrial, along with consumer and agricultural products, while Germany represents a powerhouse of heavy industry that primarily focuses on exporting raw materials, fuel and machinery, in addition to equipment and chemicals.
Hoang Quang Phong, vice chairman of the Vietnam Chamber of Commerce and Industry (VCCI), emphasized that, a decade on from establishing the Vietnam-Germany strategic partnership, bilateral trade has increased by 80% from US$5.6 billion in 2011 to US$10 billion in 2020.
Most notably, exports from the nation to the German market during this period also achieved an annual growth rate of approximately 11.5%. However, two-way trade between the two sides accounts for only 1.83% of the country's total trade, far lower than other partners, Phong noted.
The EVFTA features a high degree of liberalization, thereby leading to the elimination of the majority of tariff barriers and a general reduction in non-tariff barriers between the country and the EU.
The agreement will serve to remove 99.2% of tariff lines for Vietnamese goods exported to Germany after seven years, whilst eliminating 98.3% of tariff lines for German products imported into the Vietnamese market after 10 years. The removal of various tariff lines therefore represents a number of advantages for local products looking to export to the German market.
In line with this, there are bright prospects ahead for a number of export items such as shoes, clothing, seafood, plastic products, fruits, nuts, and other agricultural products to the German market.
Nguyen Cam Trang, deputy director of the Import-Export Department under the Ministry of Industry and Trade, informed that several major Vietnamese export products such as transport and spare parts, iron and steel, computers and electronics, have all taken advantage of opportunities from the EVFTA to increase exports.
Trang also introduced specific requirements relating to import and export procedures for local businesses in a bid to maximize benefits from these opportunities.