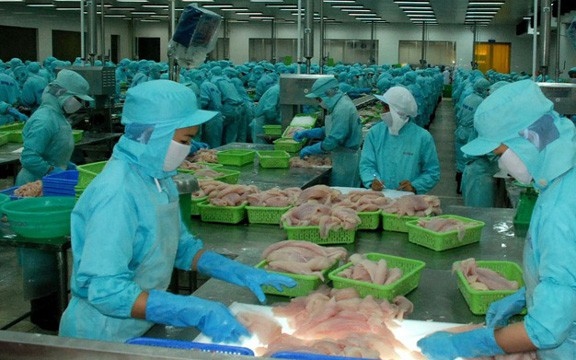 They have been told to seek suitable channels aimed at introducing their products to supermarket chains, restaurants, and hotels in the European country.
Vo Van Long, chairman of the Vietnam Business Association in Germany, says there is plenty of room for local firms to boost their exports to the market due to German consumers having a high demand for food products from Vietnam.
Trade with Germany has bounced back following the enforcement of the EU-Vietnam Free Trade Agreement (EVFTA). Businesses have been able to seize upon opportunities brought by the EVFTA, especially with regard to the substantial reduction in tariffs placed on agro-forestry-fisheries products.
Vietnamese Ambassador to Germany Nguyen Minh Vu has stated that German firms are keen to do businesses and expand trade - investment ties with the Southeast Asian nation in the near future.
He notes that Vietnamese enterprises that have yet to work with German partners should regard the large Vietnamese community in Germany numbering nearly 200,000 as a good channel to introduce their products in this potential market.
Adding to this viewpoint, Pham Truong Giang, Vietnamese Consul General in Frankfurt, emphasises that the governments of both countries have consistently paid close attention to ramping up economic and trade co-operation ties, while several German states have moved to establish strong fine relations with Vietnamese localities in recent years.
Giang therefore underlines the need to put the Vietnam-Germany Joint Committee for Economic Cooperation into operation in a swift manner in the hope that it will provide a solid foundation for intensifying co-operation between German states and Vietnamese localities.
Amid COVID-19 challenges, the diplomat recommends that both sides organise additional expos and develop warehouses in Germany, making it easier for Vietnamese goods to penetrate the German market, along with other European countries.
Bui Vuong Anh, Vietnamese Trade Counselor in Germany, underscores the importance of the EVFTA and the EU-Vietnam Investment Protection Agreement (EVIPA) in deepening the strategic partnership that exists between the two countries. He says the Vietnamese Trade Office in Germany is actively co-ordinating with relevant agencies to strengthen connectivity among businesses and promote trade ties in the priority fields.
Vu Ba Phu, director general of the Vietnam Trade Promotion Agency (Vietrade), elaborates on the EVFTA's positive impact on trade co-operation between Vietnam and Germany, saying the former will much benefit from entering the latter's market.
Germany is Vietnam's largest trade partner within the European Union, accounting for nearly one-fifth of Vietnamese exports to the EU and serving as an important gateway for local goods to make inroads into other markets in Europe, Phu says.
According to the trade official, domestic products are suitable to meet the high consumer demand within Germany and the EU in general. The Vietnam-Germany Joint Committee on Economic Cooperation will therefore serve to provide businesses with updated information on the trade and investment potential of both countries while supporting them to resolve problems during the implementation of the EVFTA.