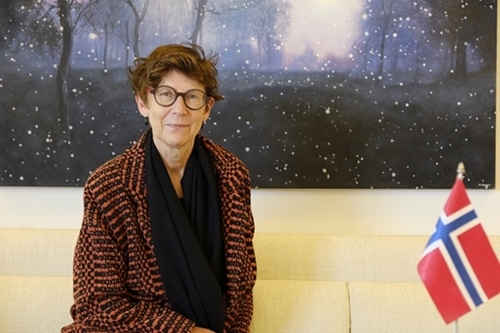 This is one part of activities to mark the 50th anniversary of the diplomatic ties between Norway and Vietnam (1971-2021).
Most recently, the Norwegian Government presented its marine report "Blue Oceans, Green Future", which highlights the significant role the ocean plays for Norway and for the world, as well as the many challenges and opportunities the ocean economy can offer. The article was written by Norwegian Ambassador to Vietnam, Ms Grete Løchen.
Norwegian history is a tale of the sea. The sea contributes to economic growth and creates jobs all along our coast. Norway has long history, strong commitment and comparative advantages in research, technological development, ocean management and business.
Three major ocean industries, e.g. oil & gas, maritime and seafood create a total value of NOK 694 billion in 2019 (around US$79 billion) and create jobs for 225,000 people.
The ocean is a global concern.
The way we use the ocean is changing. Industries, both existing and new, are continuing to develop, and activity is increasing. The ocean and its well-functioning ecosystems can provide us with, among other things, more jobs, more food, and clean energy. However, the ways in which we harvest the oceans' resources also carry with them a big responsibility.
Norway's valued experience include: sustainable harvesting of fish stock through agreements with other countries and predictable and sustainable aquaculture growth; strictly regulated petroleum industry with close government monitoring and high compliance requirements; and knowledge-based ocean management, which lays a foundation for new ocean industries such as offshore wind.
Building a strong and sustainable ocean economy based on preserving clean and healthy oceans with well-functioning ecosystems and enabling value creation through sustainable use, is key to achieve the UN Sustainable Development Goals (SDGs) and our commitments to the Paris Agreement.
Strong commitment to ocean and ocean economy
"US$1 invested in a healthier ocean will reap a US$5 return, but countries must work together to realize that reward…Ocean overexploitation, pollution and climate change could cost the global economy more than US$400 billion each year by 2050", said Norwegian Prime Minister, Ms Erna Solberg.
The Government's ocean policy seeks a blue and green transition which includes: (i) increased productivity and innovation of business sector to shift growth engine from petroleum to other environment-friendly and low-carbon industries, such as offshore wind both nationally and internationally; (ii) 50% of international shipping emission cut by 2050 and domestic emission by 2030 through transition to greener and smarter shipping by electrification of vessels, use of battery technology, hydrogen and autonomous vessels; (iii) green open ocean aquaculture with the development of fish farms in more exposed waters and in the open ocean. More areas will become available for production of seafood but also entails new challenges relating to operations (including health, safety and environment) and fish welfare.
There are important underlying success factors in Norway's ocean economy and ocean industries. First and foremost, it is the close cooperation and coordination among government institutions, the industries and knowledge institutions.
"Without active participation of and effective cooperation among these stakeholders, the ocean economy could hardly thrive. The government is the regulator, provides enabling investment environment, monitors and enforces the implementation process, companies invest in new ideas/projects and bring these into market while research institutions develop cutting edge technologies", said Norwegian Ambassador to Vietnam Ms Grete Løchen.
Second, integrated ocean management approach is critical for ensuring value creation, food security and environmental preservation. Third, co-existence among industries, balance among different interests and overall view in ocean management are important for sustainable development.
Global ocean leadership
Norway plays a leadership role internationally in the ocean related matters such as promotion of sustainable ocean economy, marine research, renewable energies, bio-economy, combating marine litter and micro-plastics and climate change. 
Norway is also the founder of the High-level Panel for Sustainable Ocean Economy, which committed to 100% sustainable management of the ocean area under national jurisdiction by 2025.
The Ocean Panel's 74 priority actions cover areas such as food, energy, tourism, transport, new ocean industries, minerals, climate change, coastal ecosystem, pollution, equity, knowledge, natural capital accounts, data/technology and finance.
Conclusion
"Norway and Vietnam are both coastal nations with a strong ocean economy. Today we are both export economies and share a strong interest in increased trade and investments to the benefit of our people. The report highlights Norway's strong expertise, innovative solutions and experiences within sustainable ocean economy, renewable energy and circular economy solutions. We have a very constructive dialogue with the Vietnamese government on these issues both bilaterally and multilaterally.  I also see a keen interest from Norwegian companies to invest in Vietnam and build Vietnamese capacities in these areas. Such investments will create more jobs for Vietnamese people as well as exchange of know-hows and technology transfers", said Ambassador Grete Løchen.