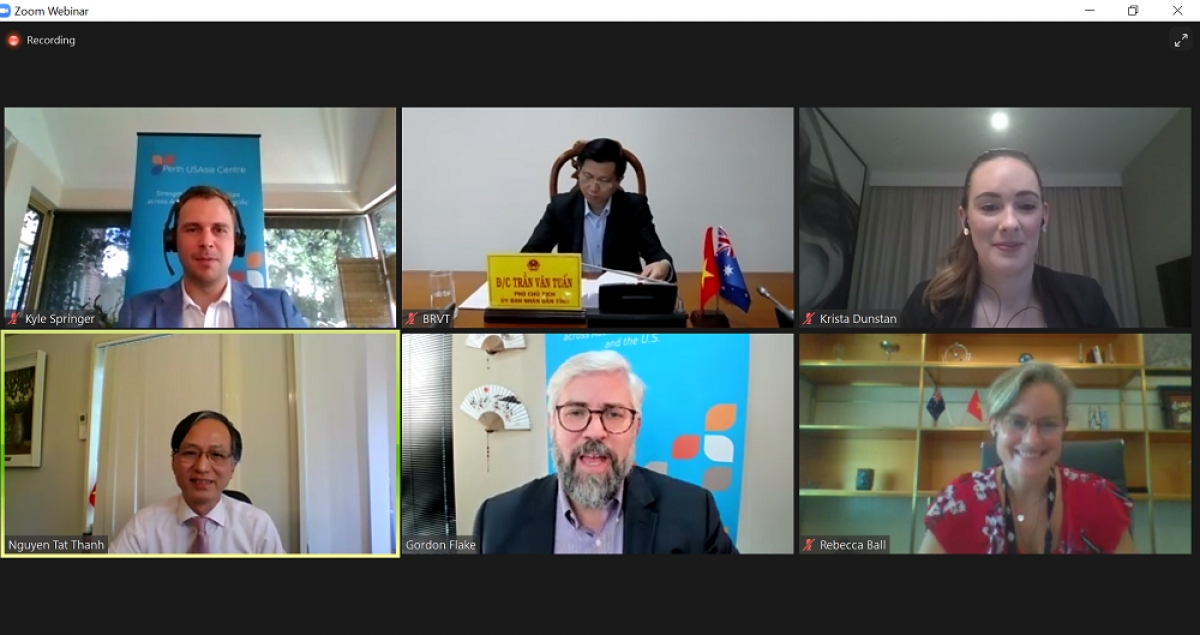 The assessment was made at an virtual event to announce the report "A vanguard for advancing the Australia-Vietnam economic relationship"  released by the Perth US Centre on November 23.
The report outlines that the Vietnamese economy is characterised by high-speed growth, open trade policies, and policy frameworks, all of which are designed to attract foreign investment, while the country's participation in the international economic architecture has been instrumental behind its continued growth.
This has therefore paved the way for the nation to become a preferred destination for firms seeking alternatives to China as a manufacturing hub under the so-called "China plus one" strategy.
The industrialisation process represents an engine for continued high-speed growth of the kind that will propel the nation to join the ranks of the world's top 20 economies by 2050, the report noted.
It also pointed out several attractive factors in the eyes of Australian investors, such as an ideal geographic gateway for international trade for the greater Ho Chi Minh City metropolitan  region, available infrastructure such as ports, international airports, and the location of national LNG import infrastructure.
These factors, coupled with the province's policy aimed at supporting local investment, have contributed to making Ba Ria - Vung Tau province a vanguard in terms of economic linkages between both countries, thereby turning the locality into one of the most attractive Vietnamese locations for foreign financiers, Kyle Springer, a Policy Fellow at the Perth USAsia Centre stressed. 
Krista Dunstan, high commissioner in charge of Investment and Trade with ASEAN under the Government of Western Australian, revealed that bilateral trade ties have blossomed during the COVID-19 pandemic, particularly as exports surged by 25% to reach US$1.6 billion last year.
Alongside Australian firms operating in the Vietnamese market such as BHP Group, BlueScope, and Interflour, other companies have continued to maintain a presence locally, including CBH Wheat Company and global shipbuilder Austal.
Rebecca Ball, senior trade and investment commissioner in Vietnam, said Australian firms has viewed Ba Ria Vung Tau as a potential locality to promote co-operation in the fields of energy, supply chain, logistics, and education.
Tran Van Tuan, vice chairman of the People's Committee of Ba Ria - Vung Tau province, shared that the locality is keen to attract foreign investment, including financiers from Australia, especially in four key economic sectors such as industry, seaport and logistics, tourism, and high-tech agriculture.
Ba Ria - Vung Tau also has great potential for the export of processed forestry and fishery products, with the locality being keen to seek an Australian partner in the area, he noted.
Vietnamese Ambassador to Australia Nguyen Tat Thanh emphasised that Ba Ria - Vung Tau is a locality with an important strategic geographical position, particularly as it is home to the country's largest seaport Cai Mep-Thi Vai.
She pointed out that trading ties between both sides have been consistently growing, with turnover reaching US$10 billion during the initial 10 months of the year, up 50% against the same period from last year, noting that Australia-Vietnam Enhanced Economic Engagement Strategy has also opened up a wealth of opportunities for future economic co-operation.
Furthermore, the establishment of strategic partnership framework in 2018, coupled with the participation in new-generation FTAs such as the Comprehensive and Progressive Agreement for Trans-Pacific Partnership (CPTPP) and the Partnership Agreement and the Regional Comprehensive Economic Partnership (RCEP), are expected to provide a solid foundation for further development of joint economic ties. Indeed, Ba Ria Vung Tau can be viewed as an ideal focal point for efforts to upgrade Australia-Vietnam economic ties.