Ample space remains to promote export of Halal products
Monday, 17:37, 20/12/2021
VOV.VN - There is plenty of room ahead for Vietnam to export Halal products to nations in Southeast Asia, South Asia, and South Pacific, areas which are considered the largest Halal food consumption regions in the world.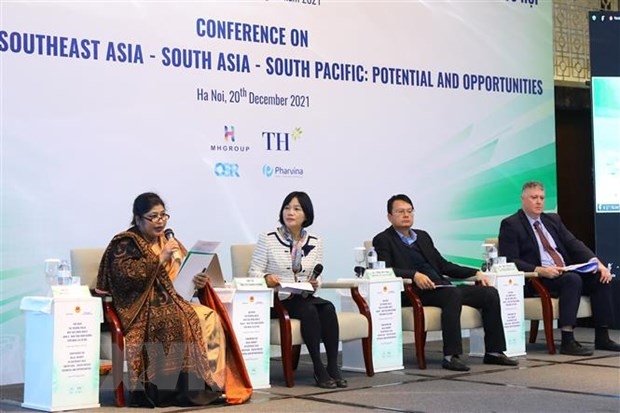 The information was released by experts during a conference held with the theme "Southeast Asia-South Asia- South Pacific: Potential and Opportunities" on December 20.
At present, the number of Muslims consuming Halal food in the Southeast Asia, South Asia, and South Pacific regions have reached approximately 860 million people, accounting for 66% of the total number of Muslims worldwide.
Deputy Minister of Foreign Affairs Nguyen Quoc Dung revealed that even in the domestic market, the demand for Halal products has been significantly increasing as more foreign Muslims visit Vietnam for the purposes of travel, work, and study.
Furthermore, Deputy Minister of Agriculture and Rural Development Phung Duc Tien said approximately 50% of Vietnamese agricultural products such as rice, vegetables, tea, coffee, cashew, and pepper can be regarded suitable for the market.
Deputy Minister Tien advised local businesses to gain greater insights into the culture, religion, and belief system in order to make further inroads into the market, particularly as each product of Vietnamese agriculture can act as a bridge of understanding and respect, connecting Vietnamese traders to partners based in Muslim markets.
However, Deputy Minister Dung pointed out that Vietnamese products do not hold significant market shares in the potential market as only about 50 Vietnamese companies are typically granted Halal certificates each year.
At present, the country only has about 20 items exported to the Halal market, while up to 40% of Vietnamese localities do not produce any Halal-certified products, Dung added.
Deputy Minister Tien expressed his hope that the event will facilitate the greater export of local agricultural products in the future, while simultaneously developing the country's agro-forestry-fishery supply chains to the Halal market in Asia, as well as the global market as a whole.
However, experts emphasized that local businesses are facing numerous difficulties in exploiting the market due to differences in business culture, consumer tastes, and especially Halal certificates.
Bangladeshi Ambassador to Vietnam Samina Naz assessed that if the nation secures only 1% of the Halal market share, it will bring great value, noting that the country has a large tourism economic sector, with culinary tourism being an important field as foreign tourists go on vacation.
The Bangladeshi diplomat therefore expressed her hope Vietnamese investors can come to the South Asian country to invest in cattle breeding, which Bangladesh has huge potential for further development.
According to Vietnamese Ambassador to Malaysia Tran Viet Thai, local enterprises need to have a specific roadmap and strategy to enter the Halal market.
He also underlined the necessity of setting up a common agency for businesses update information about the Halal market, which will also help ambassadors overseas find it easier to strengthen connectivity.