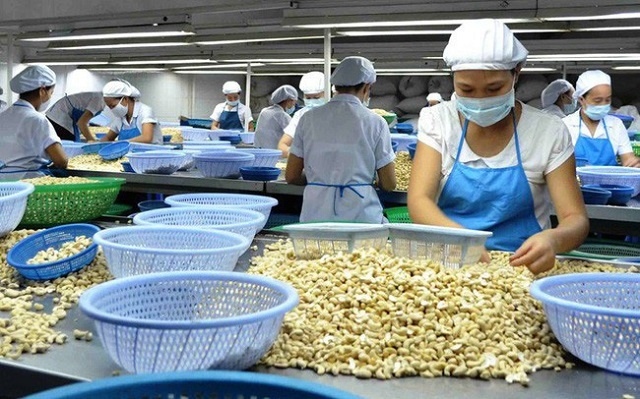 The total import-export turnover of agro-forestry-fisheries products throughout the reviewed period surged by 27.9% to over US$67.7 billion, of which exports soared by 17.7% to more than US$35.5 billion and imports increased by 41.6% to US$32.2 billion.
The agricultural sector enjoyed a trade surplus of more than US$3.3 billion over nine months, a bright spot in the overall economic picture amid the COVID-19 pandemic, the MARD says.
Most farm products recorded strong export growth, such as coffee, rubber, fruit and vegetables, pepper, cashew nuts, cassava and cassava products, livestock products, pangasius, shrimp, wooden product, rattan, bamboo, sedge carpet, and cinnamon.
Notably, several export products obtained high growth in both volume and value, including rubber up 17.1% in volume and 52.7% in value, cashew nuts 16.6% in volume and 14.8% in value, and cassava and cassava products up 12.9% in volume and 27.7% in value.
The Vietnam Food Association reports the country exported 122,000 tonnes of rice over the past week, marking an increase of 3.39% compared to the previous week, while Thailand and Pakistan only exported 157,000 tonnes and 95,000 tonnes, respectively.
In face of price competition from regional peers, Vietnamese export price of 5% broken rice remains stable at between US$428 - 432 per tonne, while that of Thailand's 5% broken rice stands at US$383 - 387 per tonne.
Nguyen Thi Huong, general director of the General Statistics Office, says agriculture proves to be a key economic sector that has supported the ailing economy badly affected by the COVID-19 pandemic over the past months.
Meanwhile, Deputy Minister Phung Duc Tien emphasised that as an important pillar of the national economy, the agricultural sector have set its sights on an export target of over US$44 billion this year.