A pivotal time to capture tourism property potential
Sunday, 16:48, 05/12/2021
Vietnam should complete a sturdy legal framework in order to allow non-nationals to buy tourist property in the country, according to international experts.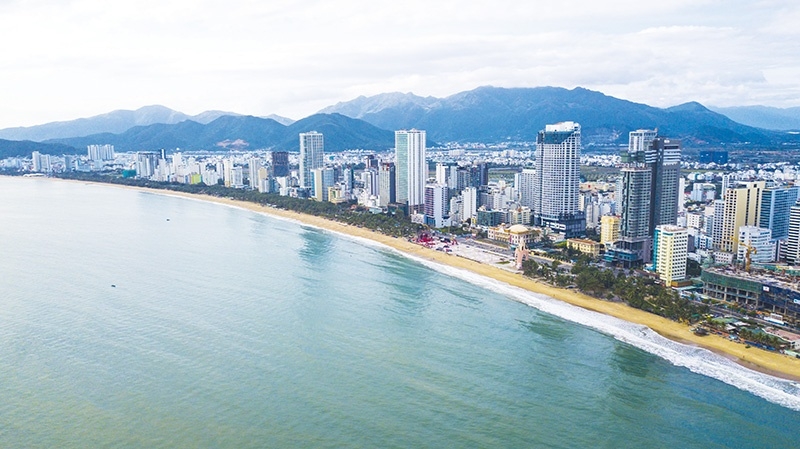 Talking with VIR, Dr. Sopon Pornchokchai, president of the International Real Estate Association in Thailand and Thai Appraisal & Estate Agents Foundation, noted that foreigners remain extremely interested in owning apartments in the likes of Hanoi and Ho Chi Minh City.
"There appears to be an opportunity to initiate urban resorts for foreigners. Major chains of world-class hotels and resort properties can participate in plots of land planned and provided by the central government or local governments as well," Pornchokchai said. "In Thailand, this issue is an open policy with minor restrictions. This is because when foreigners own tourism real estate, it brings about many other benefits in terms of tourist flow and cash. So this is not a disadvantage."
Moreover, he suggested the government allow investors to lease properties, particularly in the case of apartments.
"For affluent senior citizens, a lease could be up to 30 years, which is an ample period of time for them. For others, it could be up to 50 years. In addition, Vietnam should have an annual property tax, capital gain tax, and estate tax at a similar rate that appears in western countries," he said.
But creating a complete legal framework to cover all activities in tourism property is a pressing issue, which the Ministry of Construction (MoC) is looking into (see opposite). Thailand has many laws and policies that govern the operation of the tourist real estate market, but these legal regulations are deemed clear and specific, according to Pornchokchai. "Based on those, it is easy for the government to manage and investors are also comfortable in the implementation and deployment process," he said.
Strict evaluation
Mark M. Kitabayshi, global coordinator for Asia-Pacific at the US National Association of Realtors, said that based on experience in the US, there is an apparent division of real estate development areas, including tourism real estate.
In terms of tax policy, the US attracts investment by exempting and reducing taxes. Currently, while only foreign resident financiers have to pay foreign investment tax, only US residents are subject to capital gains tax, so it evens out, Kitabayshi says. "Other taxes, like property tax, are set by each state but it is the same for nationals and foreigners. So this does not make it challenging for overseas investors to make a purchase," he added.
Lessons from the US prove that for Vietnam to determine the place and type of investment, the nation must evaluate where tourists come from, for what purpose, and for how long. Other factors are the relationship with current real estate-related regulations such as zoning and related funding regulations.
In recent years, before the pandemic strangled the industry, the tourism real estate segment has developed actively with many high-end products such as condotels, shophouses, resorts, homestays, and farmstays in Vietnam. However, policies and laws on tourism real estate are still incomplete and inconsistent, causing confusion for state management of the market in localities and causing a bottleneck for business activities.
According to Nguyen Manh Khoi, deputy director of the Department of Housing Management and Real Estate Market underthe Ministry of Construction, tourism property is currently overseen by many different regulations and laws. The current laws on land and real estate mention tourism property including condotels, resort villas, and farmstays as "commercial and services construction". This means that tourism properties are built on tourism and service land plots, which is why they are not given long-term ownership.
"This misleading situation causes confusion for tourism property developers, buyers, and local authorities, leading to a dispute in their business," Khoi explained.
Long-term cracks
Meanwhile Doan Van Binh, vice chairman of the Vietnam Real Estate Association, admitted that tourism property faces major problems.
"The laws on investment and tourism real estate business still have many significant gaps, such as complicated investment procedures that waste time and cost for developers," Binh said. "There are no regulations or policies to attract foreign investment in tourism real estate. However, the current land law allows foreigners to buy houses – but not for tourist real estate."
Moreover, Vietnam has no legal regulations to control ambiguity in profit commitment, capital mobilisation, and sharing profit in timeshare properties.
Tourism real estate was once dubbed a "golden egg" for Vietnam some years ago. According to the Vietnam Association of Realtors, more than 18,000 condotels were launched for sale in 2020. However, liquidation was very low and the pandemic has since continued to wipe out the resilience of the condotel market.
According to Nguyen Hoang, director for research and development at DKRA Vietnam, the condotel segment was creaking before the pandemic hit.
"From 2016 to 2018 this segment had enormous supply, with tens of thousands of apartments put into the market every year," Hoang said. "However, after this, some project developers could not pay the rental yield as committed, upsetting owners and causing conflicts to break out."
Predicting the development of condotels in the near future in Vietnam, Hoang said that with tourism activities still severely reduced, major obstacles will persist until socioeconomic activities are fully resumed.