Vietnamese painting sale hits record high at Sotherby's auction
Monday, 15:44, 19/04/2021
VOV.VN - Portrait de Mademoiselle Phuong by painter Mai Trung Thu has been auctioned at Sotherby's Hong Kong, hitting record high in value among Vietnamese paintings at the sale.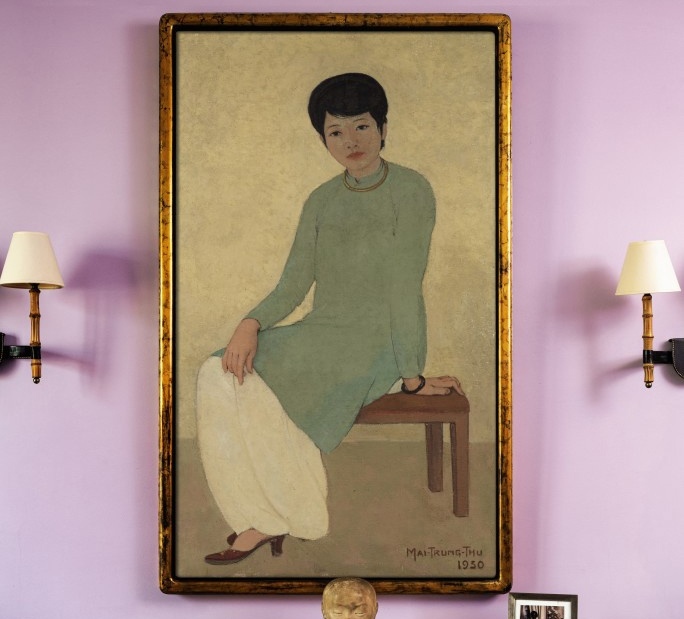 Many artworks by famous Asian painters, including Le Pho Mai Trung Thu and Vu Cao Dam of Vietnam, were put up for public auction at Beyond Legends: Modern Art Evening Sale on April 18.
But Portrait de Mademoiselle Phuong by Mai Trung Thu grabbed full attention as its sale broke a record set earlier by another Vietnamese painting.  
Sotherby's Hong Kong initially valued the Portrait de Mademoiselle Phuong at HKD7.5-9.3 million (US$965,000 – 1,200,000), but the artwork was eventually sold for HKD24.3 million (or US$3.1 million).
Earlier, oil painting "Nue" (Nude) by Le Pho was sold for HKD10.9 million (US$1.4 million) at the 20th Century & Contemporary Art auction held by Christie's Hong Kong auction house in May 2019.
Measuring 135.5 x 80 cm, Portrait de Mademoiselle Phuong is an oil on canvas painting, with the author's signature inscribed at the lower right corner in 1930. The painting was auctioned off from Ms. Dothi Dumonteil's collection.
The artwork was exhibited at the Hanoi-based École des Beaux-Arts de l'Indochine (Indochina Fine Arts College) in 1930, then at Paris-based Exposition Coloniale Internationale in 1931.
The painting was known to the public when it appeared in the 1993 award winning film The Scent of Green Papaya by Tran Anh Hung.
Since this movie feature, the Portrait of Mademoiselle Phuong has remained unseen to the public eye and exemplifies the visual heights that make the painter one of the most celebrated artists in Vietnamese history.
Mai Trung Thu (1906-1980) was a famous Vietnamese painter. He was one of the artists graduating from the first course of the Indochina Fine Arts College. He was classified as a group of four Vietnamese artists in France (together with Le Pho, Vu Cao Dam, and Le Luu).