Goethe Institut to host 20th century music concert series
Thursday, 10:04, 18/03/2021
The German Cultural Institute (Goethe Institut) in Hanoi will host a series of musical programs to present to the audience works from authors who have not performed much in Vietnam, especially musicians during the 20th century.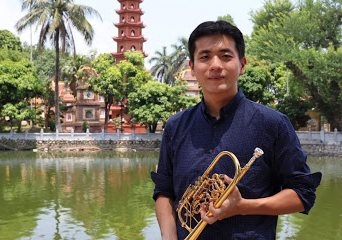 The 20th century is a period of unlimited creativity and extremely diverse development of different musical colors and composition tactics. The artists and lecturers of Inspirito School of Music will participate in this series.
The first performance will take place at the Goethe Institut, 56-58-60 Nguyen Thai Hoc Street, Ba Dinh District, Hanoi, on March 22, starting at 7 p.m. The event will feature Japanese trumpeter Yuki Urushihara, oboeist Hoang Manh Lam and pianists Ngo Phuong Vi, Duong Hong Thach, Pho Duc Hoang and Luu Duc Anh.
The artists will provide an overview of musical languages from different countries around the world during the 20th century, from Japan to Eastern and Western Europe and America.
Some of the pieces that will be performed include Benjamin Britten's "Six Metamorphoses after Ovid", Toru Takemitsu's "Paths", Friedrich Gulda's "For Rico" and Frederic Rzewski's "Winnsboro Cotton Mill Blues".
Inspirito School of Music is run by a team of pedagogues and musicians, aimed at building a professional environment for education and performing arts with various study programs such as chamber music, orchestral conducting and ancient music. Inspirito teachers and assistants have participated in various concerts in Vietnam or on international podiums as soloists, in chamber ensembles or as orchestra members.