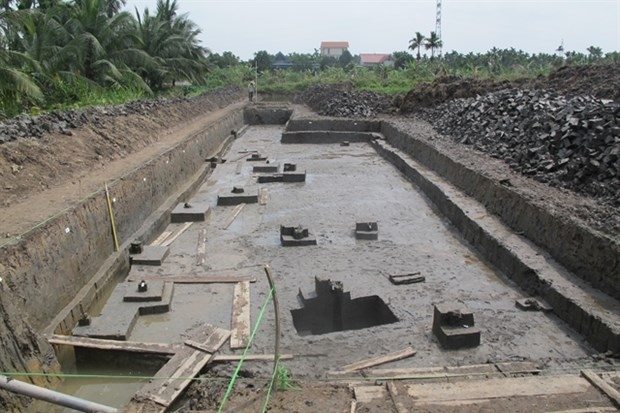 The event was jointly held by the Vietnam Academy of Social Sciences (VASS) and Institute of Archaeology in cooperation with the People's Committee of Hai Phong city.

Opening the conference, Professor, Dr. Pham Van Duc, Vice President of the Vietnam Academy of Social Sciences, said that the annual conference to announce new archaeological discoveries is an outstanding scientific activity associated with the formation and development of the country's archaeology over the past half-century.

"This is an opportunity for archaeologists and specialists of related sciences to get together, exchange information and join academic debates which will open up new opportunities for cooperation in research, development, conservation and promote the values of the national cultural heritages," he noted.

According to the professor, some significant discoveries of this year include new discoveries at archaeological sites in An Khe, the central highlands province of Gia Lai, which help to confirm the values of the relic to the appearance of primitive humans in Vietnam 80,000 years ago, as well as the discoveries of the relics associated with human evolution and prehistoric cultures in Lang Son, Thai Nguyen, Yen Bai and Ha Giang provinces.

The highlight of the archaeological activities of the past year was the discovery and excavation of two relic sites of wooden stakes located in Cao Quy field and Dam Thuong area in Thuy Nguyen district in the northern city port of Hai Phong.

The results of archaeological research and interdisciplinary research initially determined that these were the relics of the Bach Dang Historic Battle against the Nguyen-Mong invaders in 1288.

According to Vice Chairman of the Hai Phong City People's Committee Nguyen Xuan Binh, the initial results of researching the traces of the resistance wars against the invaders on Bach Dang River have been announced thanks to the timely discovery of the locals, the participation of authorities and scientists.

"This is a discovery of great significance to the history of the city, and is the pride of the people of the country in general and the city in particular," he stressed, adding that the city has been concerned about the project of building a road to Cao Quy Stake Reserve.

After the opening session of the conference, the delegates were divided into subcommittees including prehistory, history, Champa-Oc Eo Cultures and underwater to join a discussion.

The conference received 341 articles which are new archaeological discoveries in recent years, including 105 articles on prehistoric archaeology, 166 articles on historic archaeology, 48 articles on Champa-Oc Eo, 16 articles on underwater archaeology and six articles on the general activities of archaeological research institutions nationwide.

Carried out meticulously with rich content, such articles are expected to shed new light on the studies of Vietnamese archaeology and the understanding of the history of the nation's formation.