American artist archives fond memories of Vietnam in book, paintings
Sunday, 17:02, 08/05/2022
VOV.VN - Captivated by Vietnamese culture, landscape, and people, Charles Daniel Hambleton, a native of northern Virginia in the US, has been living in Vietnam since 2011.
He has written a book and creates various art works to archive his memories of the country. 
"If you could trade your comfort zone for an exotic realm you only knew in books and imaginations, how would you do it?". This is the first line in the book "Mua Am: My journey to the heart of Vietnam" written by Charles Daniel Hambleton, aka Dan. This question had haunted Dan for years, leading to his life-changing journey in Vietnam.
Dan's curiosity about Vietnam began when he was studying Asian Arts in high school and university. In the 1990s, he met a Vietnamese family in the US and was introduced to the culture. Dan said that he loves dining in Vietnamese restaurants in the US to observe daily life and draw pictures.
He decided to rent a Vietnamese boarding house to get closer to the Vietnamese people and lifestyle and eventually embarked on a shoestring trip to Vietnam in 1999. Dan said although the trip was only 10 days, it was a rich experience and a source of inspiration for him to write his first book which shares his wild, often comical, and poignant adventures as he explores Vietnam 23 years ago.
"When I went to Vietnam in 1999, it was a life-changing experience. It changed my whole life, my feelings about a lot of things. And I liked the people so much, they were so interesting to me. So, I want to tell that story," he said.
However, Dan had neither found a publisher to release the book in the 2000s in America nor did he have a chance to return to Vietnam until 2011 when he received a teaching offer. Since then, he has worked as an artist, journalist, and teacher in Hanoi where he had his book published.
"Toi hy vọng la nguoi Viet Nam se thich cuon sach." ("I hope that Vietnamese people will like this book.") – Dan laughed when sharing with VOV about his book in Vietnamese.
The book was released in English in 2020 and in Vietnamese in 2021. Dan said the book has received a positive response from many young Vietnamese readers.
"Young people who have read it shared that they can learn about the history, they know about the past, they learn about their own country. They think it is interesting because it is a part of their history. So, I am really happy about that, as the book is gaining nice responses from the Vietnamese people now," he said.
Vietnam is no longer the same as it was described in Dan's book. His memories of "getting around Ho Chi Minh City with cyclos" or "enjoying a hot Pho soup with 5,000 dongs" have become a story of the past. Infrastructure has been upgraded, and moving between cities is also more convenient. It takes travelers now less-than-2-hour drive to Da Lat from Nha Trang, rather than the 8-hour bus Dan experienced before.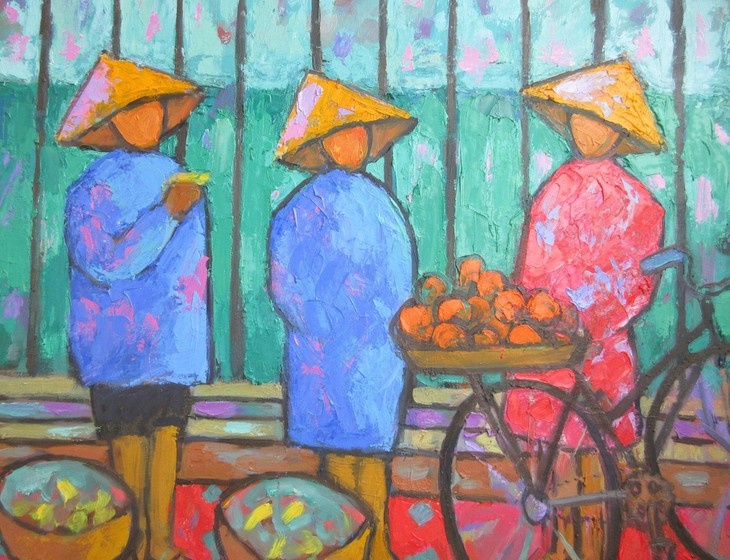 "Vietnam really did change rapidly. For example, when I went back to Ho Chi Minh city about 4 years ago, I was in Cho Lon (The Big Market) in District 1 and I was looking at the streets. Everything there where I had been in 1999, I could not even recognize anymore. It was like a completely strange place. I saw the statue and the clock tower still there, but things were so completely different," said Dan.
No matter how things have changed, Dan still has strong feelings for Vietnam. He said he is attracted to Vietnamese people's sense of humor, lifestyle, and the country's culture, especially art, music, and landscape.
"I really love to get out into the countryside. That is what I love to do the most. I rode my motorbike to the mountains in Ha Giang, Mu Cang Chai. I also enjoyed visiting other places like Mui Ne and Nha Trang," said Dan.
Those trips have brought him a lot of experiences and inspiration. In early 2020, his most recent exhibition of oil paintings, "Vietnam - Through My Eyes", was held by the Vietnam Fine Art Association at Exhibition House (16 Ngo Quyen Street, Hanoi).
The colors in Dan's art in this exhibition were mainly warm tones, expressing the closeness and friendliness of Vietnamese people. In some paintings, he used mysterious colors to show the beauty of ancient Hanoi. Viewers could also see daily life of Vietnam through some works such as "The Three Ao Muas (Raincoats)," "Women Workers Taking A Break," and "The Chess Players."
He recounted the memory of meeting Le Lien, a famous sculptor who created the memorial monument in Hoa Lo Prison, at his exhibition.
"He was a great patron. I wondered what he thought about my paintings and he said "Rat Viet!". He thought my paintings were very Vietnamese, so I was kind of happy about that," said Dan.